Are You Dealing with a Partial Manual Action?
Written by Brick Marketing
In early August, Google announced that they would be sending messages to site owners about manual actions being taken on the site. The messages will let site owner know if they have been affected by site-wide manual actions or just partial actions. In his example below, Matt Cutts shows how a partial manual action has been taken to a specific section of the website saying "the webmaster has a problem with other people leaving spam on mattcutts.com/forum/. By fixing this common issue, the webmaster can not only help restore his forum's rankings on Google, but also improve the experience for his users."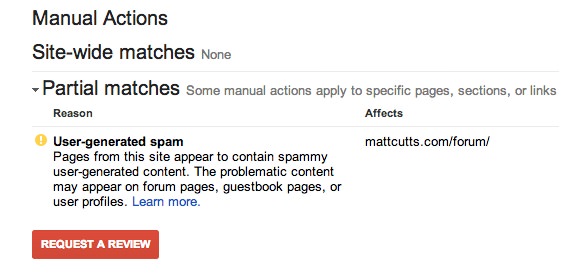 Other sites with manual actions will see a different message, depending on why their website was hit with a penalty. Some site might get told about a thin content issue, which would help site owner identify which pages of their website need to be updated, consolidated, or even just deleted. Other sites might deal with a partial manual action because of their link profile. For instance, the site below was impacted because of unnatural links pointing to the site. As the message states "we are taking targeted action on the unnatural links instead of on the site's ranking as a whole."

To me, this means the site probably wouldn't see a huge drop in traffic or rankings across the board, but more of a residual, trickle-down effect. For instance, let's say you had 100 links pointing to your site and each link was worth 10 points. Your website would then be worth 1,000 points. Now let's assume that 30 of those links were flagged as web spam and are now only worth 3 points each. Suddenly your website is only worth 790 points. The size of your link profile didn't change but the value of it decreased substantially because of these manual actions. In turn, your website loses some of its organic value and that could manifest and fewer organic visitors.
If your site has been given a partial manual action like the one above it's imperative that you start the reconsideration process and work to clean up your website's link profile as quickly as possible. Unlike an algorithmic penalty when you have to wait for the next update to come out before seeing a recovery, site owners can get a manual penalty lifted by submitting a reconsideration request. Using your Google Webmaster Tools account, as well as other tools like Open Site Explorer or MajesticSEO, start digging through your link profile and flag any links that could be considered spam. That partial manual action could have been triggered by links such as:
1. Follow links and keyword anchor text in press releases.
2. Links from blog networks.
3. Link exchanges.
4. Keyword rich anchor text in guest blog posts.
5. Low-quality directory links.
6. Footer and other site-wide links.
Unfortunately the manual actions tab does not tell site owners exactly which links are putting their site in danger and which aren't, so you still have to take the time to manually review each followed link in your profile to see which ones need to be removed.
Categorized in: Search Engines
Like what you've read? Please share this article