Sometimes One Tweet Can Equal One Sale…Sort Of
Written by Brick Marketing
Brick Marketing runs 4-6 SEO workshops here in Boston every year. We do a minimal amount of active marketing, usually letting the SEO value of our website position the workshops in front of those looking for a local course. If we still have some seats left a week or two before the workshop we'll do a last minute social push to get the word out and hopefully pull in one or two more registrants that way. Normally we don't expect a single social update to turn into a sale, especially in the B2B world, but that doesn't mean it can't happen every once in a while! Here's what a recent Twitter conversation before our December SEO workshop looked like: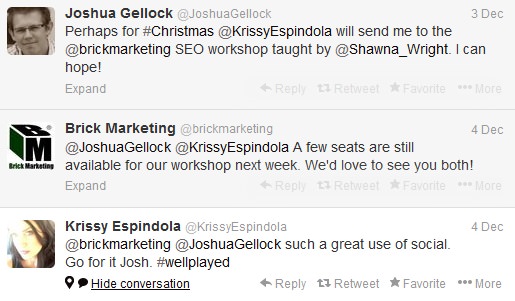 We noticed that Josh tweeted his desire to come to our workshop so we sent a quick message back telling him we hoped both he and Krissy (his boss, perhaps?) could come. Just a little while later Krissy gave Josh the green light to purchase a registration! Look at that B2B folk, a Twitter conversation lead to an actual conversion; not engagement, not social shares, but a real purchase. It's a Christmas miracle!
But, while this may look like one single tweet leads to a sale, at the very least it was two tweets, right? At the very least, Josh initially had to see our tweet that pushed the workshop. And in order to see our tweet he had to be following one of our social accounts, or at least be following someone who retweeted our announcement. So this one-tweet-one-sale relationship isn't actually one-to-one. There was a lot going on behind the scenes that helped facilitate this conversation.
If Josh was a follower of our company social account before this conversation he's been seeing hundreds of our tweets over time. And if he sees our tweets chances are he has read our blog at least once. That means he has been to our site before and it's possible he already knew about our workshops from his time spent on the site. He may even be on our e-newsletter list, which we sometimes also use to help promote the workshops. Or he's a member of SEMPO, where we are promoted as a recommended learning partner. There could be multiple ways/times that Josh has interacted with our company before this conversation ever took place.
If he had no idea who we are, maybe he searched for "Boston SEO workshop" in Google, found our registration page, and then used Twitter to send the plea out to his boss. That means Josh actually found our workshop registration page because of our own SEO efforts, which then turned the action over to social media. Again, it's still not really a one-to-one social to sale conversion.
B2B marketers and site owners in particular need to understand that their SEO and social media efforts do not exist in silos. They two are inextricably combined and one influences the other every single day. Most of the time a short Twitter conversation will NOT lead to a hard sale, but when it does know that those 140 character messages are not the only reason why you closed that business. All the other work you've done with regard to your website and your social presence contributes to the success of that interaction.
Categorized in: Social Media
Like what you've read? Please share this article