Don't Make These Old Fashioned SEO Mistakes
Written by Nick Stamoulis
SEO has changed a lot over the past few years, especially after Google rolls out a major update. The Panda updates, for example, left many webmasters scratching their heads, wondering what they need to change. Unfortunately, some people are still stuck in the "old days" of SEO. If you're wondering why your search engine optimization efforts aren't paying off, this could be why. Here's a checklist of some of the practices you'll definitely want to stop doing.
Thinking More Pages is Better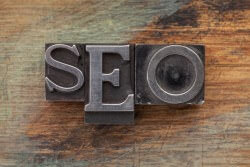 In the SEO "old days", it used to be that the more pages of content you have on your site, the easier it would be to rank well in the search engines. Well, those days are over. While it's true that a site that has hundreds of pages of great, relevant content will likely rank well, page quantity isn't a guarantee. If a site has hundreds of pages of poor content, a site with fewer pages will probably outperform it in search engine query results.
Keyword Stuffing
Several years ago, stuffing as many keywords as possible into a single web page may have caused it to achieve a boost in rankings. Those days are long gone. Now, if a page is "over-optimized" it could do more harm than good. Content that is filled with keywords could be labeled as low quality by the search engines. Even worse than that, this type of content could suffer penalties. Rather than focus on keyword usage, it's better to write content that has been written for your visitors. If they determine it has a high value, this will benefit your site over the long term better than keywords could.
Getting Backlinks from Anywhere
Back linking strategies have changed much during the evolution of search engine optimization. It used to be that the more backlinks a site has, the better it would perform in the search engines. So, they would work hard to secure as many backlinks as possible, even if the site had nothing to do with their own. These days, that strategy does a lot more harm than good. No, the best practice is to let the backlinks happen naturally. If they create great content, people will inevitably respond by sharing it on their websites and social pages. It all starts by writing pages that give visitors a great experience. If they perceive it as having a high value, they'll share it with others. The best thing to do is just sit back and wait for that process to happen. In the meantime, it's best to concentrate on the content itself.
Images and Videos Don't Matter
It used to be that whether or not the page had images or videos on them wouldn't affect search engine rankings. However, those days are in the past. Now, search engines recognize that content that includes visuals increases user's perceived value. As a result, the engines tend to give preference to pages that do have visuals, as long as they related to the content in some way. To put this practice to use, select images and videos that relate to the articles.
SEO changes constantly, and it's come a long way since the "old days" of a few years ago. The best thing to do is review your strategies every few months to make sure they're not outdated.
Categorized in: SEO
Like what you've read? Please share this article