The Importance of the Longtail Keyword
Written by Nick Stamoulis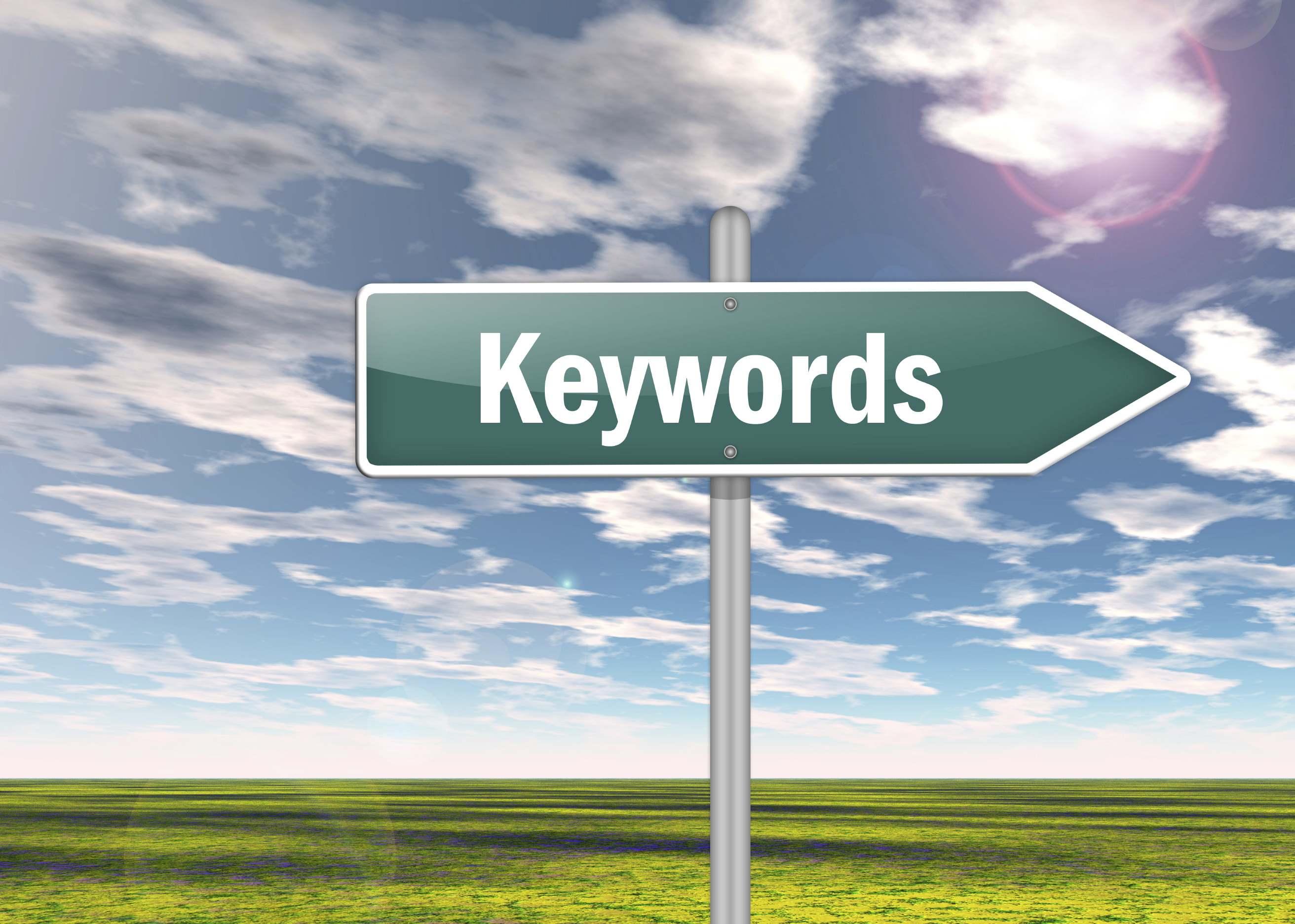 Perhaps the most important part of the research phase of an SEO campaign is the keyword research process. The keywords that are chosen have huge implications on the whole campaign that follows. Choose the right ones, and the right people will find your business's website. Choose the wrong ones, or don't choose any at all, and your SEO campaign won't be as effective as it could be.
However, some companies think that they know their target audience well enough to determine the keywords without doing the research. This simply isn't true! Depending on the industry, it's very likely that people are searching for your products or services in ways that you hadn't thought of. The keywords that are chosen are implemented into the content of the webpage and used in every link building tactic. Missing important keywords can result in missing out on potential business opportunities.
There are two types of keywords – broad and niche, where niche keywords are often long tail keywords, or keywords containing two or more words. Here is some more information on exactly what these keywords are and the purpose they play in your B2B SEO campaign:
What Are Broad Keywords?
The most obvious keywords, and the ones with the highest search volume, are broad keywords. Broad keywords have a lot more competition to them than niche keywords do. For instance, if you do a search for "software" you'll get a lot of results, and a limited number of them may actually pertain to what you actually need.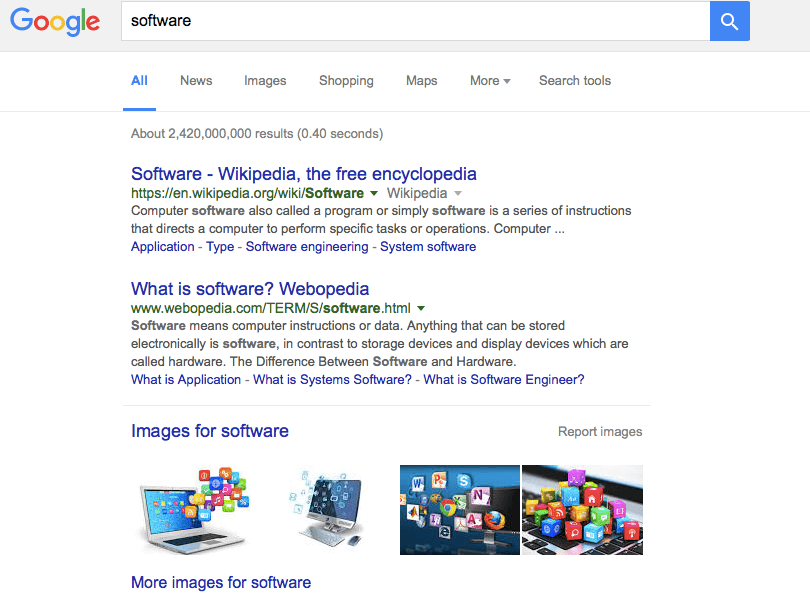 As you can see, the results that are returned are extremely general and are focused on defining what software actually is. If you were looking for information on a particular business software application, you would need to endlessly scroll through the results to actually find it. This is time consuming and also frustrating. You'll quickly realize that you'll need to get more specific with your search results so that you can find what you need.
Can you imagine if your business spends too much time targeting these broad keywords? The competition is fierce. The websites that were returned in the top results are well-established websites. Not only that, but since the results aren't targeted, you won't necessarily attract people to your website who would be interested in your product or service.
What Are Niche Keywords?
Niche keywords are often also longtail keywords, or keywords that include several words. They are more targeted and are used differently than broad keywords. Broad keywords are often used by a searcher that is still in the beginning stages of decision making. In the example above, the searcher knew he wanted to find information about software. He also quickly learned that he'd need to get more specific. This is where niche keywords and long tail keywords come in.
Let's say he realized he needed to refine his search. So, he typed, "business software" in the search box. However, he is still researching. This is what is returned in the top results: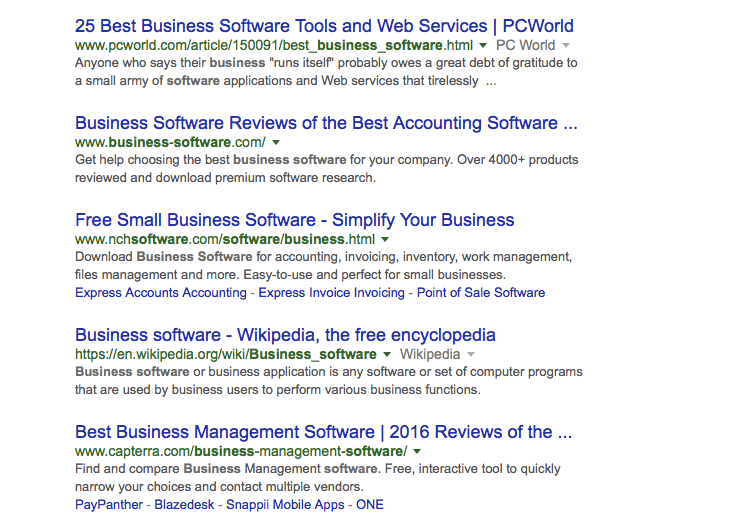 Chances are pretty good that the search for "business software" was still too broad for him to find the information he really needed. He's still in research mode, and he realizes he needs to refine the searches even further. He realizes that if he's going to find information on the specific type of software program that he is looking for, he'll need to get even more specific. So, he researches for, "operations management software." The results that are returned are much closer to what he is looking for: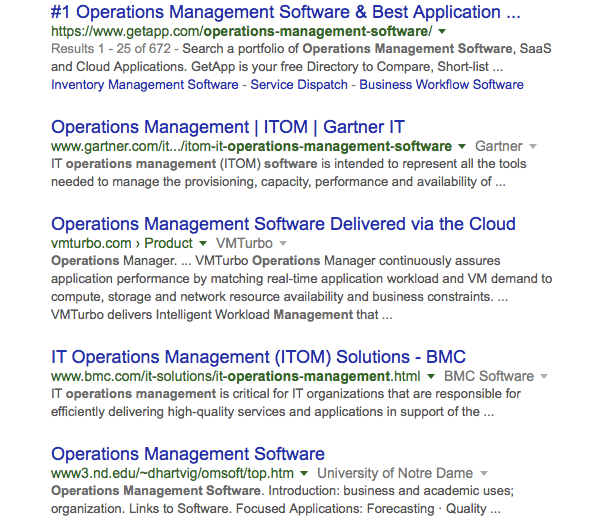 For the last search, he used a longtail keyword to deliver the results that he wanted. If you have an operations management software company, you'd want to be returned on this page of results because this keyword connects you with potential customers.
Longtail keywords are used by searchers that are transitioning from research mode to purchase mode in the buying cycle. For this reason, niche keywords produce higher conversions than broad keywords do.  This is why it's so important for companies to take an ultra targeted approach using long tail keywords – to attract the right types of people to the website.
This doesn't mean that you can't target broad keywords. It just means that you shouldn't only target broad keywords. It also doesn't mean that you should target keywords that are extremely longtail, such as "enterprise business software solutions for your company". The best keywords to choose are mid range, not too broad or too specific, but somewhere in the middle. By doing keyword research while forming your SEO campaign, you will be able to come up with a good mix of keywords that will attract the right visitors. This is the approach we take for all of our B2B full service SEO clients.
Categorized in: Keyword Research
Like what you've read? Please share this article