Local SEO Drives Foot Traffic
Written by Nick Stamoulis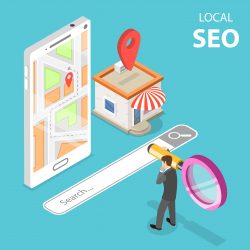 Local SEO is great for ensuring that your local business is showing up in the SERPs for the right audiences. After all, a pizza shop in Chicago doesn't really care about ranking in the search results for someone that lives in Seattle. But local SEO not only helps your online presence, when done right it can actually help drive foot traffic to your store.
1. Create local business profiles that are mobile friendly.
Let's say you own a pizza shop. When your customers are looking to go out to eat and decide they want pizza, where are they looking for information about what's near, good and open? Chances are it's their mobile device (a Smartphone or tablet)! Online business listings as part of your local SEO campaign are not only a great source of links; they also help your business get noticed by your target audience when it will do the most good. In addition to Google, Bing and Yahoo Local, you also want to create a listing on peer review sites that have mobile applications like Yelp or UrbanSpoon and OpenTable. When someone is out and about trying to decide where they want to eat you want your restaurant to pop up!
2. Build links from local news sources.
Local news sites like Patch.com are a great source of quality links, but they can also help increase your local brand exposure and let the community know about your business! Connect with local journalists and bloggers and leverage their media pull to help get your business talked about online. Google has a "News" section in the search results, so someone looking for "pizza store" might see an article about your restaurant and click on it—maybe it's about your new location, an updated menu that focuses on local and organic ingredients, or a seasonal special you're running through the end of the month. However you show up in the SERPs, thanks to your local SEO efforts, those listings can help drive foot traffic to your business!
3. Establish business partnerships with other local businesses.
Link exchanges are a big no-no for both national and local SEO. Instead of giving a link to get a link with any website that will have you, concentrate on building real business partnerships with other businesses in your community. You probably don't want to partner with/promote another pizza shop, but maybe you can partner with a local movie theater and cross-link and promote each other. People who come in for dinner at your pizza place will get $2 off their movie ticket while movie-goers that present their ticket stubs in your pizza joint can get a free side or extra topping on their medium pizzas. You not only get a quality link from your partner (and you can have more than one) but know you are leveraging their brand to help drive foot traffic.
4. Target hyper-local keywords.
Targeting hyper-local keywords is an important part of any local SEO campaign, especially when you work in a huge city. Think about Manhattan—how many pizza joints are there in Manhattan? Chances are someone that lives in the East Village isn't going to head down to the Financial District for a slice. When you work in a huge "local" area you might need to niche it down to your neighborhood or zip code to ensure that your business is showing up in the SERPs for the right audience and get the best customers coming through your door.
Categorized in: Search Engine Optimization (SEO)
Like what you've read? Please share this article