Are Your Keywords "In Season?"
Written by Nick Stamoulis
Have you noticed a slight dip in your organic traffic recently? I'm not talking Google algorithm update crisis dip; just that your organic visitors seem to be a little lower than usual. There could be a lot of factors at play here and one of them that should definitely be considered is seasonality. One way to tell if seasonality is at play is to compare the month (or months) when you noticed the downward trend to the same time period last year. If the two sets of data reflect a similar dip then seasonality is most likely your culprit.
The keywords you target are impacted by seasonality as well, not just the overall visitor trend of your website. For instance, the keyword "Christmas tree farm" gets about 74,000 searches a month. A pretty solid sounding number, right?  Any website would be happy to rank number one for a keyword that gets so much search volume. But if we take it a step further and look at the seasonality of that keyword using the Google Keyword Research Tool we'll probably find that it looks something more like this: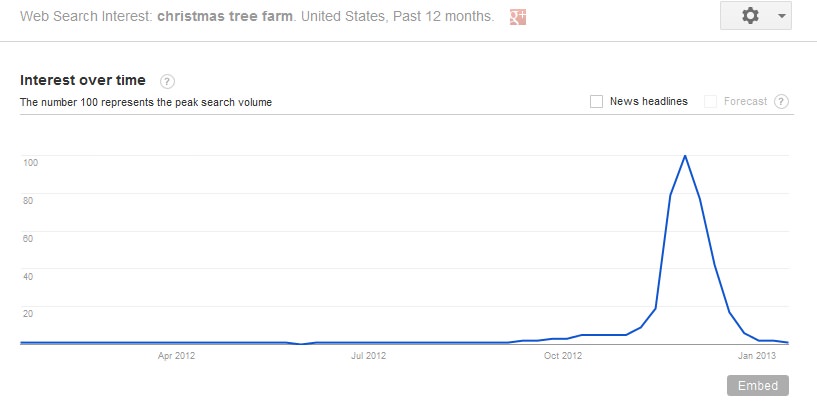 Until October there is practically no search volume for "Christmas tree farm." And if there is no search volume (meaning no one is searching) how can anyone find your website through that keyword?! If a company that wanted to target "Christmas tree farm" as their main keyword has any hopes of driving traffic to their site the other 9+ months of the year they need to diversify their business and their SEO quick! When you own a seasonal business you can't expect your SEO to work miracles and drive organic traffic when there is none to be had.
Every industry has its slow seasons and growth seasons. For instance, over my 13 year career in SEO I've noticed that my "busy" season tends to be the first quarter. Why? Because businesses have gotten their budgets for the New Year approved which means they have the money to hire an SEO firm. There is more search volume around SEO related keywords because more people are searching for SEO companies and services. Some long tail keywords that don't get much love the rest of the year suddenly see spikes in search volume, much like "Christmas tree farms" does from November into December. I want my website to be in a good position to capitalize on the seasonality of those keywords, so I might plan my content marketing schedule accordingly and write more content that is applicable to businesses that are looking for an SEO partner. When you know that certain keywords are about to be "in season" you can adjust your content marketing and link building campaigns so your site can capitalize on those changes. Maybe you add a few pages of content to your site and let them age so that next year you're site will be good to go for those in-season keywords!
On the flip side, when the seasonality of a keyword is working against your website you shouldn't be surprised to see a dip in your organic traffic. This doesn't necessarily mean that your SEO is failing you or that you need to abandon your keywords; it just means that your business is in its "slow" season. This is one of the many reasons it's so important to not look at your SEO in a silo! If you didn't realize seasonality was at play you might actually undermine the effectiveness of your SEO campaign by changing things around.
Categorized in: Keyword Research
Like what you've read? Please share this article