Interview with Kathy Nielsen, Director of Strategic Alliances at Sedo
Written by Nick Stamoulis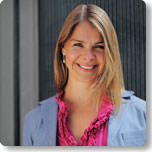 Recently I had the chance to interview Kathy Nielson, Director of Strategic Alliances at Sedo, where she is leading their new gTLD offering.  Sedo is the world's only global domain marketplace where individuals and companies can buy and sell their domain names. Kathy works with Sedo's domain registry and registrar clients on special auctions and sales projects so if you've ever had any questions about gTLDs or ICANN's domain name expansion she probably has all the answers and then some!
Thanks so much to Kathy Nielsen  for spending the time to answer all of my questions! 🙂
Question: Sedo is a place where site owners and to-be site owners can come together to buy and sell domain names. What are some of the strangest domain names you've seen in the marketplace?
Answer from Kathy Nielsen: The domain that comes immediately to mind is dudu.com, which sold last year for 1 million USD, but there are really all kinds of names available for just about any industry you can imagine, and at a variety of price points.
Question: Branded domain names or "SEO-friendly" domain names—which do you feel is the better investment?
Answer from Kathy Nielsen: I think there are great strategies for using both. Branding is not cheap. If you are a startup with limited cash, you really need to go with a domain that will be easy to remember for your target audience. If not, you'll spend a big portion of your marketing budget just getting people to remember the company name, your brand and your domain. Think about Bing: that is a great, easy to remember name and domain. However, we all know what Bing is because Microsoft is able to market the domain well across multiple channels and over a long period of time. Buying a brandable domain typically takes a lot of marketing, as well as financial and time investments.
Another approach is finding a unique, short and memorable domain and building your brand on that, while also purchasing keyword domains. For example, I found NIXO.com listed for sale in Sedo's marketplace. Typically, four letter dot-coms cost 1,000 to 2,000 dollars. If I had a new product or company that helped "get rid of," or "nix" things, NIXO could be a fun brand name because it's short and easy to remember. What I might want to do in addition is purchase keyword domains to capture exact searches for those things my company "nixes."
"How do I stop junk mail?" stopjunkmail.com
"How do I stop snoring?" stopsnoringforgood.com
By purchasing keyword and search-phrase related domains that match your product or business offerings, you can capture targeted searchers that might not know your brand, NIXO. This is just one example, but I've seen strategies where a company builds smaller sites on theses targeted keyword domains with good information and strong content, then links those back to their main site, or talks about the main brand as a strong solution to the search question.
I've only discussed a .com example here, but in the summer of 2013 we'll start to see the landscape of the Internet change completely. Big brands will start to use new extensions like Run.nike. Major cities will start to use geo-targeted domains such as KidsCamps.boston or Events.boston, and the general public will have access to many new domain extensions called generic top-level domains (gTLDs). .Law, .Music and .Hotel are just a few of the hundreds of new possibilities we'll have to choose from. Imagine opening your own business or launching a new product, and struggling to find a good .com name that is available at a reasonable price. Soon, there will be hundreds of new domains to consider. For example, instead of picking Cupcakes.com or BostonPetSitting.com, you will be able to consider Cupcakes.boston or PetSitting.boston.
Question: What kind of background checking should a to-be site owner do before buying an existing domain to ensure they aren't inheriting someone else's mess?
Answer from Kathy Nielsen: It's a smart idea when buying a domain that is already registered to do some background checking. If you are working with a broker or a marketplace, you can ask the seller directly what they have used the domain for in the past, if there are any issues (for example, has it ever been blacklisted by any search engines? Have they received any TM complaints?). You can also ensure that stipulations regarding the domain's "clean record" are in the purchase and sale agreement.
There is also something called the "Internet Archive Wayback Machine" (http://archive.org/web/web.php), which allows you to type in a web address and see screenshots of the site going back many years. It's a good tool that can give you a peek into the past use of any previously-owned domain.
Question: What's the value in buying a pre-existing domain as opposed to launching a brand-new website?
Answer from Kathy Nielsen: Reasons for buying a currently registered domain likely vary from buyer to buyer and project to project, but often the main reason is that it's a domain that the buyer really wants, and the current owner is happy parting with it for the right price.
Question: What factors impact the value and price of a domain name on Sedo?
Answer from Kathy Nielsen: There are so many factors that impact the price of a domain name. One of the basics is the value of its keywords. Domain keywords like "loans" or "mortgage," for example, always have a high premium because of the industry they relate to. The generic domains that correspond to the keywords exactly (i.e. loans.com, mortage.com) are similarly highly valuable.
The domain extension also usually plays a role. .Com is currently the highest value domain extension. .net, .info and others are used less often, and are normally less expensive when it comes to purchasing premium keyword domains.
If the domain has sold multiple times, typically you'll see a pattern of increasing value, not unlike the real estate market.
These are just a few things that go into assessing the value of a domain. We have a great resource that uses historic data and scientific analysis to estimate domain name values, which people can check out at Sedo.com/IDNX.
Question: Can you explain exactly what a gTLD is?
Answer from Kathy Nielsen: A gTLD is a generic top-level domain. The "top-level" is what comes after the dot, so anything to the right of the dot (for example .com, .net, .org) is the top-level. A generic TLD is one that is not specific to a geographical region, with the most popular again being .com, .net, and .org. Domains that are specific to a country or geographical region (for example, .us, .co.uk, .asia) are called country code top-level domains (ccTLDs).
Question: How are "old" gTLDs different from the "new" gTLDs?
Answer from Kathy Nielsen: Existing gTLDs are not really that different from new gTLDs as far as the average user is concerned. They include the extensions we're all used to, such as .com, .net and .org.
The new gTLDs are "new" because they are the result of a program run by ICANN, the internet's governing body, to create new domain name extensions. The new gTLD program really opened up a window for anyone to apply for a gTLD, whereas it was previously fairly restrictive and complex to apply for and launch a gTLD. ICANN and many, many stakeholders worked for over seven years to develop this new gTLD program, addressing many of the shortcomings learned from past launches, and made great improvements. Big brands like .nike , .bmw and .citi applied for new gTLD extensions but many new companies were also created to apply for generic terms like .books or .music.
Question: In your SearchEngineLand article about gTLDs you mention that gTLDs will "…open up new premium names at targeted domain extensions, creating an opportunity for businesses to get in on names they may have had to pay six- or seven-figure sums for as a .com." However, it's probably safe to assume most people automatically think of and use .com to search. In your opinion, what is the likelihood that new gTLDs will be universally adopted, used and accepted among businesses and consumers?
Answer from Kathy Nielsen: I think it's likely that it will take a few years to change mindsets and shift perceptions among typical internet users. However, with hundreds of major brands planning to use their brand as a gTLD, it will be widely and visibly marketed. I've heard some brands are going to consolidate all products or business units under their .brand. This will be evident once brands start advertising using their new .brand domains.
I also believe that the new gTLDs offer new buyers great new options. If, for example, I am opening a new pet shop business and my .com is taken, I can get a .pets instead, where previously I only had the option to purchase a .net or .biz – which in spite of being good alternatives, are still far less specific than .pets.
From a domain buyer's perspective, the new choices will be very visible. When a domain buyer goes to a registrar such as Go Daddy or Network Solutions to search for a domain, they'll soon see many more options—Kathy.pets will be there alongside KathysPets.com. Over 1,900 applications have been filed for new gTLDs, and we'll probably see about 1,000 or go live over the next few years.
Between big brands and one-man shops, awareness of new gTLDs will steadily increase.
Question: How do you feel the new gTLDs will impact search and SEO?
Answer from Kathy Nielsen: It is still uncertain, but my belief is that new gTLDs will make valuable content easier to find. If I want information on pets, I can search .pets domains. If I want information on skiing, I'll search within .ski domains. Search engines reward valuable, relevant content, so very specific gTLDs will likely be treated favorably by search engines.
Question: Could a new gTLD out-perform a .com in the search engines? Would a shop.shoes actually do better than shoes.com?
Answer from Kathy Nielsen: At this time, there is no way of knowing what the search engines will do and how they will treat the new domains. It's certainly possible for a new gTLD to outperform a .com, but that won't happen overnight. In the end, a business and its website need marketing, good content and great user experience. If those pieces are not there, no site will perform well – even a .com.
Question: What's going to happen to sites that can't afford a new gTLD or can't get the one they want? Are they going to be left behind?
Answer from Kathy Nielsen: New gTLD domains should be very affordable: Kathys.Pets, for example, will likely be somewhere in the $15 per year range. If you're a company looking to apply for your brand to use as a TLD such as .nike, however, there is a very different answer. It is a major commitment and investment to own and operate a new gTLD, both financially and in terms of resources, so it really only makes sense for the largest brands to do so at this time. There are many great generic options that most businesses can take advantage of for now, but if you have strong brand equity and a shorter, memorable name, you'll likely want to look into the option of owning your brand at the top level sometime in the near future.
Question: If a site owner or marketing manger wants to register a new gTLD for their brand what do they have to do?
Answer from Kathy Nielsen: To register a domain with a new gTLD like .cars, they'll just have to go to a registrar that carries the .cars extension. Sedo, GoDaddy, Register.com, Network Solutions, 1&1 and United Domains are just a few of the registrars that will carry and sell many new gTLD domains.
To register your entire ".brand" TLD, you'll have to wait for ICANN's next application window, complete the extensive application process and pay the 185,000 USD fee. The process is very long, detailed and includes financial, technical and many other requirements that need to be set-up and verified by ICANN before an application is approved. I would highly recommend that brands interested in this route hire a consultant to help with the process. There are several good companies out there that went through the first round of ICANN's gTLD application process and will be quick and efficient at helping brands in any future rounds.
Question: Do you think there are any businesses or brands that wouldn't benefit from investing in a new gTLD?
Answer from Kathy Nielsen: There is a ton of potential for innovation, as well as room for growth and new ideas with the new gTLDs. I think that if you are a brand and you did not apply to own and operate your own TLD in the first round, you still have time. The best advice at this point is to wait and see what the current brand applicants do with theirs. See how they use new domains. And if you feel that your company or brand would benefit from owning your brand name at the top-level, keep an eye on ICANN and the dates for the next round of open applications. I would also add that if you have major competitors that have already applied for their brand TLD, pay especially close attention to them. Are they using their gTLD creatively to gain an advantage? Does their branded domain extension make them appear more unique or tech savvy? Is their extension giving them any benefit over other competitors? If the answer is yes, maybe it's time to join the new gTLD landscape.
Connect with Kathy Nielsen on Twitter and LinkedIn.
*****
This non-paid interview is designed to give the Brick Marketing audience insights and different perspectives of SEO, link building, social media and web marketing. Past expert interviews include: Ann Handley,  Eric Ward, Mike Moran, Andy Beal, and Jordan Kasteler to name a few.
If you would like to be interviewed by the Brick Marketing team please contact Brick Marketing here:
https://www.brickmarketing.com/contact
Categorized in: Expert Interviews
Like what you've read? Please share this article