Interview with Julie Joyce of Link Fish Media
Written by Nick Stamoulis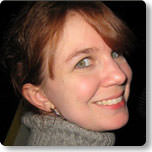 Recently I had the chance to interview link building expert Julie Joyce.  Julie owns the link development firm Link Fish Media and is one of the founding members of the SEO Chicks blog. She is also a frequent contributor to the Link Week column on Search Engine Land and writes for other top industry blogs including Search Marketing Gurus, Search Engine Watch, Search Engine People and State of Search.
Thanks so much to Julie Joyce for spending the time to answer all of my questions!
Question: Link Fish Media obviously knows its way around a link building campaign. Do you think Penguin 2.0 will render traditional link building more or less important for long term SEO success?
Answer from Julie Joyce: I think it depends on what you mean by traditional link building. If you mean finding good sites to get a link on, however you do it, I think it will be the same in terms of importance if not become more important, but I do think that it's getting more difficult for people to want to link out to anyone because they're afraid of getting a warning from Google. Right after they made the announcement that Penguin 2.0 was on its way, our response rate dropped pretty dramatically and we had a few negotiations that broke down when webmasters said they just didn't want to risk linking out to anyone. I've had a few people email to ask if I think it's safe for them to even link out using a nofollow, so it's definitely getting harder for link builders but I think it's getting harder for anyone to do anything sadly. People are too afraid of being accidentally caught up in the next crackdown.
Question: If a site owner hasn't been affected by any iteration of Penguin is it worth the time and effort to do a link audit and cleanup?
Answer from Julie Joyce: I think doing a link audit is always a good idea because you should know what's in your profile, but cleanup takes a massive amount of effort so if nothing bad has happened, I'd recommend learning more about the potential problems you have but unless you find something truly horrible, not actively pursuing cleanup. I'd rather see people building more good links, but I could change my mind depending upon the fallout from Penguin 2.0 of course.
Question: Have you worked with any sites that were hurt by the first wave of Penguin? Were you able to help them recover and what steps did that involve?
Answer from Julie Joyce: I do have one site that was hurt but they weren't knocked out or anything…just moved down more than they should have been. They've spent a year doing everything right in my opinion, and I'm happy to say that this next round put them back up in the SERPs where they were. We just started doing more of a variety of anchors, varying our focus from month to month in response to what the previous month's efforts showed us. I'll have to give that client credit for a lot of that though, as they've invested in content and social media and while I think we started building better and safer links, I do think they deserve a lot of the credit for the strategy.
Question: Guest blogging is probably the "hot" link building technique of the moment, but do you think it's next on the Google chopping block?
Answer from Julie Joyce: I do sadly, and I hate it. I think that marketers have a tendency to ruin just about anything that works, and you can find great guest posts and I'm still being asked to guest post on good sites, but it has become greatly overrused and the quality is suffering. I also can't deny the premonitions of all the SEOs who expect it to get hit soon, so I'll say that yes, I do expect it will, but I don't think it will be anything where all sites hosting guest posts get knocked down in the rankings or where all the links in guest posts get devalued. I think it might be a more subtle thing where webmasters will be advised to nofollow the links in a guest post maybe, just like we've been told to do with paid links.
Question: Does a link in a tweet count as much as a link from a site? Can more social activity make up for less link building?
Answer from Julie Joyce: I don't see any evidence that suggests that a tweeted link counts as much as an actual text link. I'd prefer a text link but I'd accept a tweet though, because I do think that good social signals can raise a site up in the rankings even if it's temporary, and the traffic is good. I imagine you can get better traffic from a good tweet than you can by many links on sites that no one goes to. I do definitely think that more social activity can make up for less link building, absolutely. I think it has to be done well though. You can't just decide that tweeting a post once is as good as building links to that post through some other method. If you're going to try and have the same effect as links would give you, you have to work harder. Tweet it more than once, a few days later, and tweet it to influencers who can retweet it. Tweet it a month later. That's all assuming that you have something tweetable of course. If you don't have anything to say, I don't think social is the magic bullet.
Question: "Help! I've run out of link building opportunities!" said the site owner. What do you say back?
Answer from Julie Joyce: I say take on some of the responsibility of marketing your own site and open your mind to new ways of doing things while realizing that you might have to do some hard work yourself. First of all, there's no end in sight for buying links unless you just don't have any money. Anyone can figure out a new angle on their area of expertise also, and it can be marketed. It may take ten times the amount of hard work for site A to do this than it would for site B, but that's life. The only person who runs out of opportunities is a lazy person who lacks creativity.
Question: What link building tactic do you wish would just go away forever?
Answer from Julie Joyce: Comment spamming. It's gotten me to the point where I'm so jaded about comments, I end up not approving some that are probably legitimate just because they've added a link. I recently looked at a site for someone and the majority of the links were in comments and forum posts and it made me want to cry.
Question: Do you think negative SEO is something most site owners should be concerned about? If so, how could a site owner protect themselves?
Answer from Julie Joyce: Definitely. I didn't really give it that much thought before the past year though, although I had seen some nasty examples. Of course I don't really know how much of what I see is actually negative SEO and how much is a webmaster trying to play innocent. You'd be amazed at how many people will swear to me that they had no idea something was going on and that their SEOs didn't tell them what they were doing. Is it always true? I highly doubt it, but there are some seriously unethical people in the world so I suppose it could be. I think the best thing you can do is to keep an eye on what's going on with your site. You should be looking at new links, monitoring everything possible through some form of alerts, and responding to potential issues as soon as you see them.
Question: You make no efforts to hide the fact that you have and will buy links for clients. It's probably safe to assume you know when a paid link is a good idea and when it's not, but for the lowly DIY SEO site owner is it worth it?
Answer from Julie Joyce: I think it depends on how well it's done. People say they hate paid links but I bet they've seen a ton of them and had no clue they were purchased. There are free links that can get you into trouble too so if a paid link is well done and it looks natural (and that does happen) then I would say go for it if you can handle the risk, but there's a lot of risk in just about every type of link these days isn't there?
Question: What's one of the strangest link building requests you've ever gotten from a client?
Answer from Julie Joyce: From a client, it was probably being asked to build links to some blog posts they had done elsewhere, which weren't very good, but that's not too strange. We don't usually get a lot of strange requests or maybe I'm jaded. We were asked to do a project for a site that hooked up closeted gay men who were married with some free lovin' types who roamed the highways looking for fun, and we said no pretty quickly.
Question: Obviously every niche is different and there is no real "right" answer, but how many links do you think a site owner should strive (even if they don't succeed) to build each day in order to stay competitive and get ahead? 1? 5? More?
Answer from Julie Joyce: I think in some industries 1 is too many. Building 1 link a day is tough for some sites. Building 500 a day at certain times is easy depending upon the site. I'd say most sites probably need at least 10 links a month but that is definitely a tough one to answer.
Question: From other interviews you've given it's clear you don't rely that heavily on tools. What link research advice do you have for site owners that would prefer to use their heads instead of a program to find links?
Answer from Julie Joyce: Ha my anti-tool agenda is well known! One thing that a lot of link builders forget to do is look at the actual site itself. When my guys say they're stuck, the very first thing I do is go directly to the site and I start digging around again, just to see if they have anything new or if I can find a new twist. I'd also advise asking someone else to brainstorm with you. It sounds so New Age but we have never had a brainstorm session where people didn't come out of it and get twice the amount of links they'd gotten the week before. It seems to really kick things into gear. I also think that people should always be thinking about ways to use what they read or hear whether it's the news, a radio show, a snippet of conversation, etc. Once you start thinking that way, you can have a billion ideas every day.
Question: Alright, we admit it, we do like writing about other people because it can help with our own link building (not to mention the opportunity to talk with experts such as yourself!), but could an interview-as-link-source ever backfire?
Answer from Julie Joyce: I think so. For people who find it a bit difficult to spend a lot of effort actively promoting themselves, if you're interviewed by a person who doesn't do anything to promote it and the interviewee doesn't do too much, you end up with a potentially awesome interview that has no good social signals, and I think it looks weird. I also think that if you were to interview a very divisive figure you could end up with some ugly comments and no one really wants to link to their interview in order to have people scroll down and read how everyone thinks they're an asshole. Actually from my experience, there's nothing in the whole world that cannot backfire.
*****
This non-paid interview is designed to give the Brick Marketing audience insights and different perspectives of SEO, link building, social media and web marketing. Past expert interviews include: Ann Handley, Eric Ward, Mike Moran, Andy Beal, and Jordan Kasteler to name a few.
If you would like to be interviewed by the Brick Marketing team please contact Brick Marketing here:
https://www.brickmarketing.com/contact
Categorized in: Expert Interviews
Like what you've read? Please share this article