Interview with SEO Expert John E Lincoln
Written by Nick Stamoulis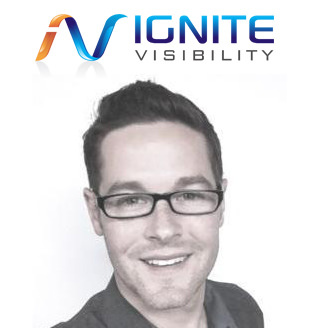 Recently I had the chance to interview John E Lincoln. John is the Founder and President of SEO and Social Media at Ignite Visibility, a full service Internet marketing company based in San Diego, CA. John is a frequent guest author on Search Engine Land, Marketing Land and the Ignite Visibility University Blog. He also teaches a quarterly course on Analytics, SEO and Social Media at UCSD. He is Google Analytics Certified and Google AdWords Certified with an emphasis in Advanced Reporting and Analysis. 
The interview is long but well worth the read! Thanks so much to John E Lincoln  for spending the time to answer all of my questions! 🙂
Question: You list one of your biggest accomplishments recently as "Increasing residual revenue for a client by over 3 million dollars in a single quarter through SEO strategies." A lot of website owners struggle with measuring ROI when it comes to SEO. How did you attribute that $3 million back to SEO?
Answer from John E Lincoln: This was based on last click attribution model through Google Analytics. It does not take into account multi-channel funnels but in the future I would like to work this into an ROI formula. So it is pretty simple really. We used the client's Google Analytics ecommerce tracking to verify the increase in revenue over the previous quarter. This was a subscription based site, so there were assumptions regarding attrition based on past numbers. But overall the number is accurate, if not low, and I had one incredibly happy client. It was the best quarter they ever had.
Question: Many small business owners can't really expect to see $3 million in revenue in a single year, let alone a single quarter. How can a small business gauge the success of its own SEO efforts?
Answer from John E Lincoln: Well I think it is pretty straightforward. If your SEO (or total Internet marketing strategy) is paying off then you are getting the leads or hitting the online sales you set in your benchmarks. Developing an Internet strategy is all about creating a cohesive, strategic plan around specific goals and working hard every day to get there. SEO is a small part of the equation but a very profitable part when utilized correctly. So to answer your question directly, it comes down to ROI. How much is client spending verse how much are they getting in return. The client of course needs to factor in their entire expense portfolio into this ROI. But in most cases, SEO pays off in dividends when there is ample budget and dedication from the team.
Question: You've worked with some really powerful brands over your SEO career. Have you found it easier or harder to work with those big names and big sites when compared to some of your smaller clients?
Answer from John E Lincoln: Bigger brands tend to have an inherent advantage associated with their brand name; the bigger the site, and more powerful the brand, the larger the advantage no question about it. Google tends to weed out products and services that don't deserve to be at the top of the search engines. In most cases, you simply cannot replicate the natural linking a great brand or product creates. I love getting a huge brand that has no SEO or has only done some basic SEO. I'll do a full analysis and find every keyword they can rank for and then segment them based on potential profitability. Following this, we create a strategic plan for clean onsite SEO implementation. When each segment goes live we see thousands of new hits start flooding into the website. Of course this varies from project to project. But for the most part this is a high-level and unique process that takes sites to the next level.
Bigger brands also tend to have larger more complex technical issues that need to be addressed and can require significantly more work, but this is where we thrive at Ignite Visibility with our high touch approach.
When it comes to smaller website, they have a tough time getting the resources in place. So in the case of a smaller site, I will usually pick a few keywords that we know will accomplish their goals and get them to the top of the index for those terms. Smaller sites do have the advantage of being able to react to changes in SEO more quickly in most cases. With respect to results, we really stress setting realistic expectations at the outset of the campaign.
So I am a fan of medium to large websites. It is easier for me to show the return more quickly. But if a smaller site or new site has enough capital, then we can make it happen as well. The issue is that the first year is a lot of work to get them on the map. So we need a killer PR strategy, great content and a brand that cuts through the clutter. That is not always easy to do in the current competitive online space which is why people hire agencies like us.
Question: Are there any major differences in the SEO campaigns for a large brand versus a smaller website?
Answer from John E Lincoln: I would say they are completely different. Again it all comes down to goals. Most smaller clients just need one local keyword and they are happy, with a few deviations (of course we can always grow and expand the keyword groups over time). The larger clients will have strategic dynamic segments that target thousands or millions of keywords. It is a totally different ball game. They are both challenging in different ways. But for me, I have a very analytical mindset and that fairs very well with the work larger sites demand. Extensive, profitable site structure recommendations are very hard to come by and this is why my people hire Ignite.
Question: In one of your blog posts on Ignite Visibility you say that one of the things you've learned over the years is that "Google really does not care about SEO…Google has always been anti-SEO and they always will." What makes you feel that way?
Answer from John E Lincoln: Well, Google is not transparent with their algorithm and I don't blame them. The message I was trying to convey is that Google does not make decisions with much regard for the SEO industry. Their goal is to provide users with the most relevant "natural" results possible.  SEO's by nature are trying to manipulate the results in algorithms which can put them in conflict with Google's goals. With good reason Google does not want SEO's gaming the system.
Google has always been guarded and cryptic about the information it makes public concerning its algorithm. Just watch a couple hundred Matt Cutts videos and watch him tap dance around topics and you will know what I am talking about. That being said, I have nothing but respect for Google. They are a big part of my career and my daily focus at work. I really enjoy the challenges Google presents with its sophisticates algorithms. Ignite Visibility also does a huge amount of social media marketing, analytics, CRO and online reputation management, so we in many ways are dependent on Google.
In the past, too often SEO's were able to exploit holes in Google's algorithm through suspect techniques to the detriment of the "good guys" trying to do it the right way. Perhaps Google has at times been over-zealous in attempting to close those loop holes, but it does seem the more recent updates have really done a better job at rewarding the good and punishing the wicked.
Question: If Google doesn't care about SEO why should site owners even bother investing all their time, money and energy into it?
Answer from John E Lincoln: It's not that Google doesn't care about SEO and websites that are optimized properly with really great content, but rather they don't care about the SEO industry or necessarily giving you the proper insight on how to improve your rankings.  At the end of the day, every company with an online strategy should care about SEO because it directly contributes to your revenue and bottom line. It has been proven if you invest the time and resources SEO pays off. You want to look at you Google Analytics and be in the green every month with larger percentage traffic increases and a good SEO strategy does that without increasing costs.
Question: Could a website still do well if they don't invest in SEO?
Answer from John E Lincoln: Sure. I love fishing too. By that I mean building up massive social media communities with hundreds of thousands of followers and then fishing or posting content to the communities and catching customers and reeling them back to the website. This is incredibly effective from ROI perspective. So social plays a massive role in the entire equation. Not only does it support SEO in so many ways, it also drives referring site traffic that converts and is entirely measurable. Like SEO, with social media you want to see an increase in traffic and revenue each month. But you need really good social strategies in place to do that. I have taught hundreds of top brands how to create an advanced strategic social media strategy. It is always really fun to reveal the strategies we've created through close to a decade of labor and study and see them executed.
There are so many other things you can do outside of SEO. I generally look at SEO, social media, pay per click, affiliate marketing, strategic website partnerships, email marketing and PR first. But any good director of marketing knows that they need to break down their budget into online and offline segments and then delineate from there. So SEO is not the entire equation, but for some companies it might feel like it. SEO is just one channel in the big picture and it needs to be integrated into the big picture. Most people don't take the time to do this.
Many websites are tremendously successfully marketing themselves via traditional forms of media such as radio and television as well. We have a great partner in this area and I have been amazed by how well they do for clients.
Question: From looking at your site I think it's safe to say that Ignite Visibility is a white hat SEO company. Have you ever had to let a client go that wanted you to utilize black hat tactics?
Answer from John E Lincoln: Well, during our sales process we are pretty clear that we will not engage in any black-hat or near black hat techniques, so we don't get a lot of clients wanting black hat solutions.  With that said, sometimes a client will inquire about a technique they read somewhere not knowing that it is clearly black hat. We simply explain the situation and steer them well clear of those techniques.
That being said, I have taken on many clients who have been penalized for things they or their previous SEO did prior to finding us, so we have worked through the reinclusionion process on many occasions. Enough to where I believe we have link analysis and reinclusion requests down to a science at this point.
We are white hat definitely. We are all about really hard work, outsmarting the competition and creating amazing content. Ignite Visibility is all about working real, creative marketing into an SEO and social media strategy and making it pay off. There is nothing better and I love what I do.
Question: Why do you feel site owners still fall for snake oil SEO salesman when so many industry leaders are warning about the dangers of get-rich-quick SEO schemes?
Answer from John E Lincoln: I think it is just human nature; people just tend to believe what they want to believe. They want to believe they guy who is telling them he can get the job done for cheap. There are a lot of salesmen in our industry who have a very good pitch and business owners don't necessarily have the technical experience or time to make informed decisions. Again I feel bad for people trying to pick someone to working with in Internet marketing. It is hard to know who to trust. You might hire a guy who genuinely things he knows that he is doing. He then builds a couple thousands links to your site and you're out of the index. Or you might hire a guy who just wanted to sell you and string you on for a few months. It's a tough call. We always strive to build a relationship with our prospects at the outset to gain their trust and hopefully provide them with the knowledge to make informed decisions even if they select a different vendor.
Question: What can site owners do to protect themselves from falling for these SEO conmen?
Answer from John E Lincoln: I've written a few posts on this topic. Probably the most important things to do is establish a relationship with the vendor prior to executing an agreement, ask to speak directly with the people who will actually be working on your account, check references,  and if possible make them show you examples of their work.
Referral from a trusted business contact is always going to be a great place to start as well. And keep in mind; if someone is promising way too much for a small dollar amount, it is probably too good to be true. Also, ask who is going to be working on your account and how many other clients they have.
Question: What kind of impact has social media marketing had on traditional link building?
Answer from John E Lincoln: Social Media has had a huge impact on traditional link building by providing a platform for businesses to natural promote their products and services. Social media is one of the only forms of link building left that Google condones.
Google basically says, build and blog and push those posts out through social. So I would say it is huge. We of course have our own link building methodology through social media. It is completely white hat and can engage a large amount of websites. So I guess there are two ways to think about it. The first way would be link building by utilizing a social site or offline property. The second way is by engaging the community you have built on the social media site. I could go on and on regarding this topic. This is something we spend an entire day on in our UCSD course. But overall, it's about being a part of social, keeping SEO in mind and getting communities to build links for you. Nothing is better than a good market maven or evangelist if you will.
Question: What kind of visitor is more valuable to a website—those coming from social media or those coming from search?
Answer from John E Lincoln: It can vary from industry-to-industry. With that said, social media is permission based marketing, assuming they are coming out of your community. Search is inbound marketing. Inbound marketing is generally solving a problem for the searcher. They are drawn to your site for some reason and thus they generally convert well when you give them the solution they are looking for.
But at the end of the day you really need to do both. In an investment portfolio you don't have 100% stocks or all your money in one mutual fund. When it comes to internet marketing you need a diversified portfolio. We hear Google updates will get more gradual. But we also hear that the Penguin Link Algorithm will get stricter. So you never know how things will go, there may be a technical error on your site, maybe some intern used the Google URL removal tool to rip you home page from the search engines (I have seen it happen). So you need to engage in both. And to answer your question, you can look at their value in a few ways. Monetary value or how much money they make you. Brand credibility, if you have more Facebook fans than a competitor this may be a credibility sign and increase conversions. There is also the customer service or engagement value as well of social, simply getting involved with people surrounding branded topics.
But when it all comes down to it, I think of search and social media as the same thing and that is why I have always led both departments. They are both organic online marketing and they work together.  Of course, I often like to throw in a splash or two of paid media to keep things lively.
Question: You've predicted that Schema.org will be the next big thing. Can you explain Schema.org markup and why you think it's going to be so powerful?
Answer from John E Lincoln: It does not matter if it is Schema.org or rel=author or rel=publisher, it is all about setting yourself apart in the search engines. So there are two factors here. A potential increase in rankings due to the way Google perceives your onsite optimization (Note: Google has not gone on record saying that these markups do improve you onsite optimization) and an increase in how users act on your site in search results. Google of course captures this data regarding how users interact and utilizes it in rankings as well. So my comment on Schema.org was simply that it is a new thing and will be a differentiator. Just the review implementation alone, when positive, can mean a huge increase in CTR, traffic and sales.
*****
This non-paid interview is designed to give the Brick Marketing audience insights and different perspectives of SEO, link building, social media and web marketing. Past expert interviews include: Ann Handley,  Eric Ward, Mike Moran, Andy Beal, and Jordan Kasteler to name a few.
If you would like to be interviewed by the Brick Marketing team please contact Brick Marketing here:
https://www.brickmarketing.com/contact
Categorized in: Expert Interviews
Like what you've read? Please share this article