What Kind Of Impact Has Your Blog Had?
Written by Brick Marketing
Just like SEO, business blogging is a long-term marketing campaign that requires consistency, dedication, and enough time to really work. Producing great content that informs, engages, and resonates with your audience day in and day out means really focusing on what you are trying to say and giving you audience what they want when they need it. Blogging can very much be a learn-as-you-go process as you fine-tune your voice, your style, your topic selection and so forth. That's one of the reasons why you can't evaluate the impact of your blog in a vacuum; one post is not enough to determine if you really "nailed it." But when you take a step back and look at the big picture a trend should emerge.
Take a look at the graph below. This show all traffic from all source to our client's blog from April 2012-October 2013. As you can see, some individual months earned more traffic than others, but the trend as a whole is undeniably moving upwards. When looking at July 2012 to July 2013 traffic is almost doubled!

Looking at other metrics, we can see that visitors who arrive on the blog spend over 160% MORE time on the site than the site average. To me, that's an indication that visitors are reading the whole blog post (and maybe 1 or 2 other posts) before leaving the site. It's safe to say that this client is producing the kind of content that really resonates with their target audience. Visitors to the blog are also more likely to sign up for the company newsletter (one of their micro-conversions) and connect with the company on social networking sites like Twitter. The blog posts are also incredibly popular in various LinkedIn groups, which is a huge source of traffic for this client. Some of their blog posts have even picked linked to from the local Fox News station's website, Forbes.com blogs, and other reputable sources. Those natural links and organic + social traffic are the real rewards for business blogging. It's about connecting with your audience as many times as possible and creating new entry points into your site for visitors to find. When all is said and done, this client's blog had had an enormous impact on their SEO and business overall!
Here is a graph representing just a single blog post on one of our client's sites. This evergreen blog post went live back in April 2013 and by the end of October it had pulled 1,434 visitors to the site from all sources of traffic. While an extra 5 or 6, or even 15-20 visitors a day may not seem like much an extra 1,400 visitors over the course of 8 months is definitely a noteworthy number! Now imagine this client had another 10 blog posts with similar looking impact—that's 14,000 new visitors to their site over an 8 month period! A single blog post can have a significant impact given enough time.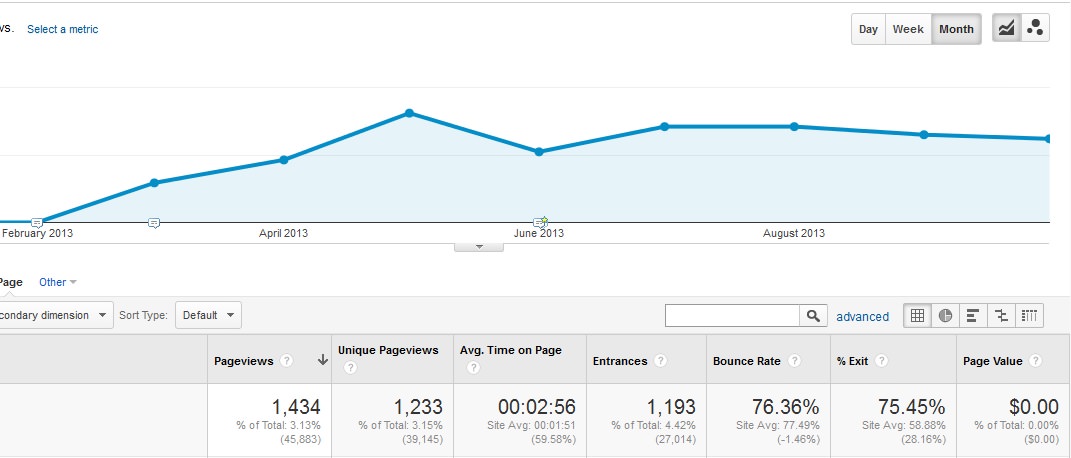 When measuring the impact of your blog it's important to give yourself a wide enough time frame to work in. A few days, or even a few weeks, won't tell the whole story. But with 3-6 months of data to comb through you start to see the real value of your blog and get a better sense of what kind of impact your content marketing efforts are having.
Categorized in: Content Marketing
Like what you've read? Please share this article