Interview with Greg Sterling of Sterling Market Intelligence
Written by Nick Stamoulis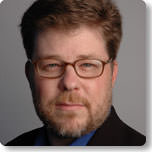 Recently I had the chance to interview Greg Sterling, contributing editor of Search Engine Land.  You can read Greg's personal blog Screenwerk, which follows the world of media and local advertising. He also writes about the mobile Internet at Internet2Go. Greg Sterling is also the founder of Sterling Market Intelligence, which researches the Internet's impact on offline consumer behavior.
Thanks to Greg for taking the time to answer my questions!
Question: There is little doubt that search traffic from mobile devices is growing, but do you think tablet users search differently than they would on a PC?
Answer from Greg Sterling: Tablet search is very similar to PC search. However the presence of apps changes behavior on tablets vs. the PC web. Accordingly people who might have used Google on the PC to navigate to sites may now, in some cases, just go directly to particular apps.
Question: How can a website owner track mobile users that then switched to a PC so they can effectively follow their path to conversion?
Answer from Greg Sterling: There are a number of methodologies emerging that try and track people across devices and platforms. The simplest way is registration and giving people sufficient incentives to sign in and remain signed in.
Question: Do you think mobile search traffic converts well?
Answer from Greg Sterling: Define "convert." Most people using mobile convert later online on a PC or tablet or in a store. There's relatively little mobile commerce. However that's growing. Marketers need to think more broadly and creatively about conversions. Those only tracking "m-commerce" transactions are missing the much larger way in which mobile is influencing purchase decisions. And too-narrow definitions of conversions or myopic attribution strategies may be missing the overall role that mobile is playing in the broader conversion process.
Question: Do you think B2B companies need to be as worried about mobile search as B2C?
Answer from Greg Sterling: Yes. Everyone is using mobile devices all the time. No one can afford to neglect it.
Question: What do you think of Google's announcement about how a site's rankings will soon be negatively influenced by "smartphone website misconfiguration"?
Answer from Greg Sterling: Google is trying to compel publishers and marketers to get their mobile acts together and this is probably a necessary if coercive step.
Question: How do you feel about the new AdWords Enhanced Campaigns?
Answer from Greg Sterling: It's mostly a self-interested move by Google. Although it may wind up benefiting some marketers as well by making them think holistically about their campaigns.
Question: What are the key differences between mobile and desktop PPC?
Answer from Greg Sterling: Marketers need to think about and understand the mobile user experience: smaller screens, time of day, context and location. What is that person doing when she or he sees the ad? And when he or she clicks through what is the landing page experience. It really needs to be mobile optimized or that click is wasted. 
Question: What did you think of eBay's decision to pull their PPC campaign?
Answer from Greg Sterling: eBay has done this before. It's probably partly based on data and partly a high-profile "FU" to Google. In the end it's probably not a great decision.
Question: What do you think of the Google Local Carousel? Do you think it will have a different effect on search behavior depending on the device being used (tablet vs. PC)?
Answer from Greg Sterling: It's too early to say what precise effect it will have. However it keeps users "within Google" more than the old page did. I don't like it as an aesthetic matter. It works better on tablets than on the PC.
Question: How could last-minute online searches influence a customer that is already physically in-store?
Answer from Greg Sterling: Yes, for sure. Between 65% and 80% of smartphone owners use their devices in stores to do price comparisons, look for reviews and coupons. There's already plenty of evidence that information discovered on smartphones does impact in-store buying (both positively and negatively). And indoor location will make in-store digital marketing a reality in a couple of years.
Question: Do you think social advertising is an effective online marketing tactic?
Answer from Greg Sterling: Yes, but often the impact is indirect. As with all channels, marketers need to think about social broadly and how it contributes to overall product and brand perception. Social needs to be coordinated with other media channels.
Connect with Greg Sterling on Twitter and Google+.
*****
This non-paid interview is designed to give the Brick Marketing audience insights and different perspectives of SEO, link building, social media and web marketing. Past expert interviews include: Ann Handley, Eric Ward, Mike Moran, Andy Beal, and Jordan Kasteler to name a few.
If you would like to be interviewed by the Brick Marketing team please contact Brick Marketing here:
https://www.brickmarketing.com/contact
Categorized in: Expert Interviews
Like what you've read? Please share this article