The Google Force Field
Written by Nick Stamoulis
When you live and breathe SEO like we do it's easy to forget that most business people, both big and small, don't play in the SEO sandbox at all. We often get asked questions that to us seem like, "well, duh," but to a small business owner or even a VP of Marketing that never delved into SEO before, it's a legitimate concern or query. When you've been working with a client for several months or even years those questions start to taper off because you (the SEO provider) educate them (the client) as time goes on; they start to "get it." But every now and then we get a lead form from a prospect that reminds us just how far removed some business owners are from SEO.
Here is an email we received a few weeks ago: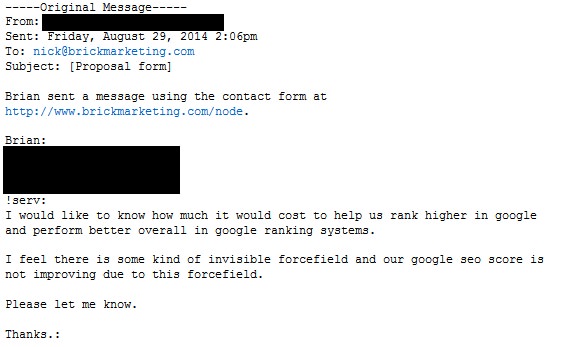 Ah yes, the invisible Google force field! To many site owners, and more than a few SEOs, it can start to feel like there is some force thwarting you at every turn. Could there be a human at Google who is actively stopping your site from succeeding? If you've ever suffered from a manual action penalty than yes, there is, but most of the time no one and nothing is working against your site. Google is really an algorithm at the end of the day, and you either fall on the right side or the wrong side of that equation. But the SEO game has changed so much in the last few years that things that used to work are now valueless (at best) or even harmful (at worst!). For instance, up until last year press releases were an easy way to build as many links as you wanted with whatever anchor text you needed.
For a small fee you could publish a press release a week if you wanted, boosting your site's SEO value by significantly increasing your link profile in an instant. But last July all that changed when Google and make it so link in press releases had to be nofollow and anchor text only. That "invisible force field" got a little thicker and a little harder to work through. The easy win opportunities are getting fewer and farther in between as well, making it that much harder for site owners to do the things that would help them get through the force field.
And as to the site owner's first question, one that everyone has asked himself or herself; how much money do I have to throw at Google to make this force field go away? The answer is there is no answer. In some cases, you could spend $0 (and just a lot of time and man power) and blow the doors of your SEO campaign depending on the history and trust value of your site, the competiveness of your field, your past SEO work, and more. Other sites might have to pay a team of writers, an in-house SEO expert, and a PR professional to make the kind of SEO headway they want to see. No two sites are the same, so no two SEO campaigns are going to have the same effect, even if they follow the exact same strategy.
Categorized in: Search Engines
Like what you've read? Please share this article