Why Google Authorship Is Worth Signing Up For
Written by Danielle Bachini
Have you signed up for Google Authorship yet? Do you even know what Google Authorship is? This post will outline the basics and explain how to sign up in order to take advantage of what it has to offer.
Google Authorship is a way to claim ownership of the content that you publish on the web. It's also a way to promote that content in the SERP (search engine results page). When you set up Google Authorship, your content appears in the SERP alongside your picture and byline and looks something like this:

What this does is draw attention. Your content might not be the top result, but if it's the only result on the SERP that has an image, it's going to draw attention. By adding the image and the byline next to the link, it will increase the click through rate. This is what searchers see, but Google Authorship also provides other "behind the scenes" benefits. It establishes a connection between content and the original author of that content. It helps Google identify what's original, and what out there the spammers out there have scraped. It helps to eliminate the anonymity that has resulted in lots of garbage content. The thought is if someone is willing to put his or her face and name with the content, it's more likely to be high quality.
Outside of the marketing crowd, far too many companies aren't taking advantage of Google Authorship yet. Only 3.5% of Fortune 500 companies are using it. If you are actively publishing content, you have nothing to lose by setting it up and everything to gain, namely a distinct advantage over your competitors in the SERPs.
Since Google Authorship is for individuals, not companies as a whole, you will need to decide who the "face" of the content will be if the writing is being outsourced. If your writing is being done in house, then you can have each of your writers set up Authorship. The first step is to set up a Google+ profile and add an image. Remember, this image is being linked to your professional content, so the image should be professional too! A clear, up close headshot is always best. The second step is to set up an author byline that is associated with your content (if you don't already have one). The name on the Google+ profile needs to match the name on the content.
Once you've set up a Google+ profile, sign in and visit https://plus.google.com/authorship. If you have an email address on the same domain as the content you simply need to type in the email address, click "Sign up for Authorship" and then follow instructions when you get an email.
If you don't have an email address on the same domain, the process is a bit more complex, but is still simple to do! Here are the instructions from Google: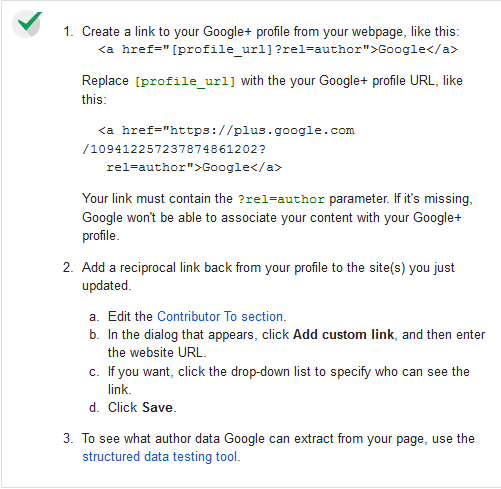 Now that you know how simple it is, what are you waiting for?
Categorized in: SEO
Like what you've read? Please share this article