"Not Provided" Google Analytics Data Could Reach 100%
Written by Nick Stamoulis
Back in 2011 Google announced they would be hiding the organic keywords secure searchers (those logged into their Google account) used in order to find a website from the Google Analytics data.  This was only supposed to apply to roughly 10% of the search data so site owners could still trust the information they were learning from Google Analytics to direct their SEO campaigns. However, it became readily apparent that 10% was nothing more than a dream and in the following months sites began to see "not provided" data grow to 40+% depending on their niche. Site owners and SEOs have been able to limp along and supplement Google Analytics data with other data sources, but now it's looking like "not provided" could soon reach 100%.
Google is reportedly moving to switch all users to secure search regardless of whether or not they're signed in. Danny Sullivan over at Search Engine Land confirmed this from Google directly:
We want to provide SSL protection to as many users as we can, in as many regions as we can — we added non-signed-in Chrome omnibox searches earlier this year, and more recently other users who aren't signed in. We're going to continue expanding our use of SSL in our services because we believe it's a good thing for users….
The motivation here is not to drive the ads side — it's for our search users.
Danny speculates that the sudden change might be partially due to Google's suspected part in the NSA's PRISM program. In addition, many SEO professionals argue that "not provided" is one-way Google is pushing site owners to dump more money in AdWords, as keyword data isn't being withheld there. While Google denies this, many wonder why the exact same search information is available to paid advertisers and not Google Analytics (which is free) users.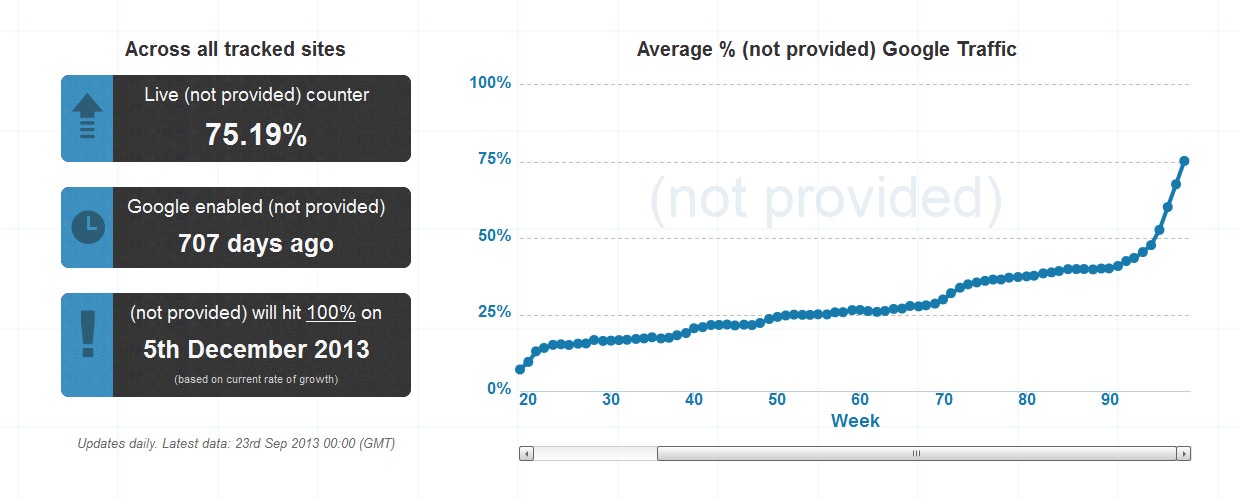 Rand Fishkin over at Moz pushed his usual whiteboard Friday ahead to Tuesday (a sure sign this is a big deal!) and put together a great post about overcoming the "not provided" data. Reporting is about to get a lot more complicated and site owners might have to use several sources of information in order to infer data that used to be freely available. Obviously this has a lot of site owners and search marketers ticked off, to say the least. As Rishi Lakhani said on eConsultancy.com, "their idea of privacy is ridiculous to say the least. You can't offer privacy, but still SELL the data to AdWords advertisers. It's the same user. It's the same action."
According to www.notprovidedcount.com, "not provided" data in Google Analytics could reach 100% by December 5th, 2013 if the current rate of growth continues. As this search information is removed from Google Analytics reporting is going to get harder and harder. My concern, and I've read similar comments from other SEO professionals, is that the search industry will have to backtrack to using ranking reports because it's the best/easiest to capture data available. Now I've been preaching why I think ranking reports aren't a good SEO metric for years and I really don't want to have to backtrack on that stance and say to a client "They still aren't great but it's the best we can do right now…" SEO reporting will become a lot more involved and time consuming as data from multiple sources will need to be analyzed and combined in order to get some idea of what is going on.
Categorized in: Search Engines
Like what you've read? Please share this article