What Are the Goals of Your SEO Program?
Written by Brick Marketing
Website owners and marketing managers decide to invest in SEO for a multitude of reasons. Maybe their traditional sales pipelines aren't as fruitful as they used to be. Maybe new competitors have entered the scene and are eating away at their profit margin. Or maybe they just finally realized how much new business the Internet could connect them with. For most sites, the end goal of any marketing program is drive new business and increases the bottom line. But like most marketing programs, SEO is a very long-term process and you might not be able to tie new business to your SEO work for several months. So in reality, you need both long and short-term goals for your SEO program as you work towards more sales.
According to the State of Search 2013 report, put out by Econsultancy and SEMPO, "For company respondents, the most commonly cited primary objective was to drive traffic to the website, with 34% indicating this. The same percentage of respondents on the agency side stated that this was typically their clients' primary objective."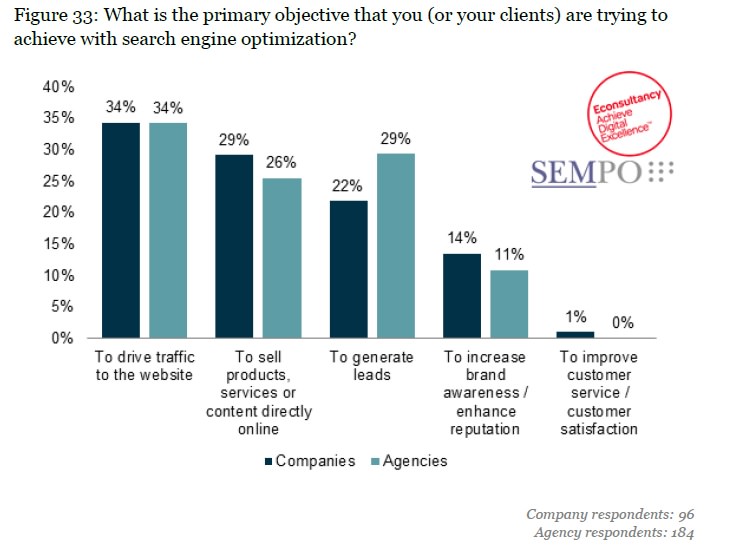 I think it's important to mention that it's not just about driving more traffic to your website. When you only care about driving more traffic you tend to invest in less than stellar tactics to get those numbers. Those tactics can actually end up hurting your SEO more in the long run than helping. Your SEO program should really be about driving more targeted traffic to your website over time! What referral links connect you with other sites that put you into direct contact with your target audience? Getting 10 people to your site is great, but getting 10 people that could actually end up buying your product down the line is even better!
So if the big goal of your SEO program is to generate leads and increase sales, what are the micro-goals that lead you along that road? For instance–one of your goals could be to have people register for a webinar or download a white paper. That micro-conversion doesn't immediately result in a sale but it does put those prospects one-step further down the road. But getting people to download those items means they have to be the right people. If you sell business intelligence software getting someone who was looking for information about cat adoption to your site doesn't do you much good. Your content marketing efforts actually help pre-qualify visitors to your site by providing the right people with the right information at the right time.
SEO is a very long-term process, so it can take anywhere from 3-9 months to see substantial growth in organic traffic to your site based on a variety of factors. We've had several clients see a strong uptick in just a few months, while others need 6+ months to really feel the effects of their SEO program. When you keep an eye on your smaller SEO goals, as well as work towards the big picture, you're no longer pigeonholing your entire success on one number. Driving more traffic to your site, even just a handful of visitors at a time, is a good indication of success.
Categorized in: SEO
Like what you've read? Please share this article