Don't Give Up on Link Building Just Yet
Written by Nick Stamoulis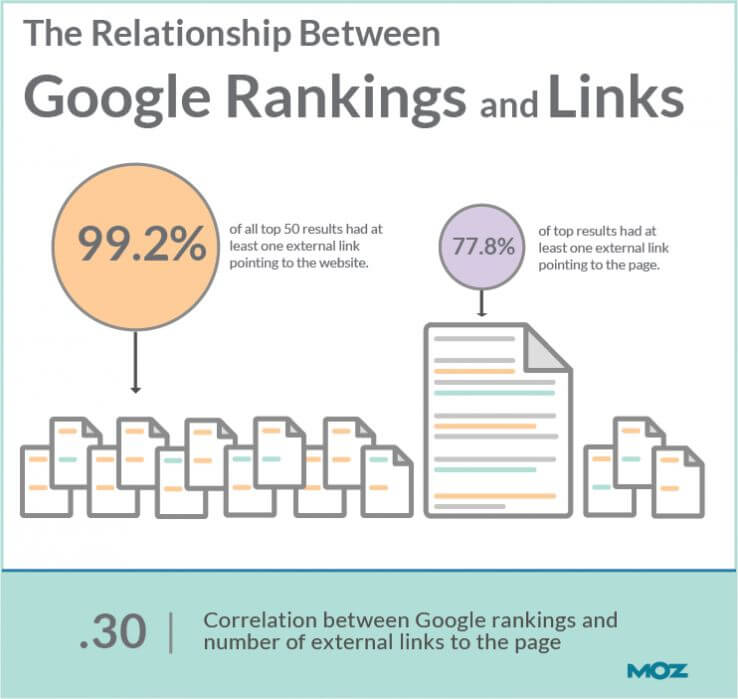 Moz released some initial results from their biannual ranking survey. The goal of the study is to so correlation (not necessarily causation) between factors we know Google looks at and how well as website ranks. "When we look at what the study found about links, we find a strong relationship…actually one of the highest correlations the study found." So even though the rule of link building have changed dramatically in the last few years, beginning with the Penguin update, links do still matter when it comes to SEO success!
But a link is not always a link. As Moz pointed out;
When Google finds a link pointing at your website, it can choose to do one of 3 things:
Count it in its ranking algorithm
Ignore it – or not give it any weight in boosting your rankings
Penalize you – if it thinks the link is manipulative
If you're lucky the "bad" links (the link exchanges, the link networks, the article marketing submission sites, etc.) are just being ignored. If Google actually counts them against you and your site is hit with a penalty (either manual action or algorithmic based), it can take months, or even years, to fully recover. Some sites deserved to get hit; they were playing a dangerous game and they knew it. Google gets smarter and smarter every year; so hiding in the shadows only works for so long. But we have also worked with several sites who took a dive in the SERPs because they didn't know what they were doing was actually wrong! That's why it is so important to keep up with the latest from Google with regards to link building and content marketing—what used to work could now actually be hurting you!
It's hard to pinpoint exactly which links are actually helping you, but it's usually safe to assume that the higher the domain authority of the source of the link the more valuable the link is overall.
It's important to remember that link profile size does not always equal SEO success. If a large chunk of your link profile is being ignored it doesn't matter how many links you think you have, you're actually trying to run on a half a tank of gas. Don't furiously try to round up ANY link just because Moz has found that links still matter. You need to focus on building/earning quality links for reputable sites that boost your brand and authority, introduce you to a wider audience, and help get your content in front of the right people.
It's important to note that the study found "…numerous examples where individual pages ranked just fine without specific external links, as long as the website itself had external links pointing at it." Whenever you create a new page, that URL gets to piggyback on the overall value of your domain, so a new piece of content might get a little boost right out of the gate even with no links, because your link building efforts for the site overall have trickled down. And then as that new page earns links, the page then helps build up the overall domain authority. It's a positive cycle of link juice!
Categorized in: Link Building
Like what you've read? Please share this article