How to Know When Your Facebook Fans Are Most Active
Written by Danielle Bachini
Facebook is the number one social network, which means that you should be utilizing it for your business. No matter what industry you are in, your target audience is using Facebook in some capacity. It's a great place to share your content and interact with current and potential clients and customers. To be efficient with your Facebook posts it's necessary to understand the behavior of your Fans. When are they using Facebook? This information can be now found within Facebook Insights and can be used to decide on the optimal times to post your content.
To find this information, click on "Check out Page Insights" from the Admin Panel when you are logged into your Facebook Page account. Next, click on "Posts". At the top you will see two tabs: "When Your Fans Are Online" and "Post Types".
First, let's focus on "When Your Fans Are Online".
You'll notice that the graphic displays information for both days and times. The data is from a one-week period in your computer's local time zone. You can see what days and times are the most popular. In this example, Wednesday is the most popular day and 7PM-9PM is the most popular time.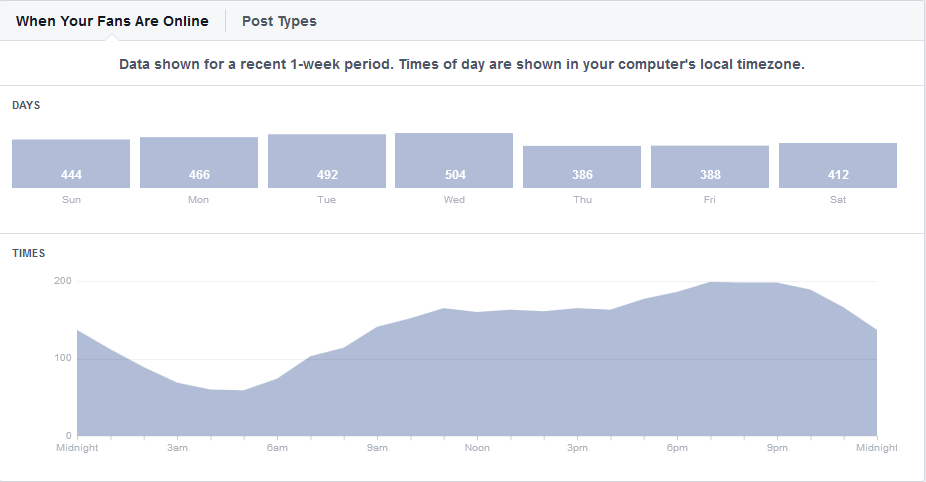 You can dig a little bit deeper and see time information for a specific day by hovering over that day. In this example, you can see that Friday at 9PM is the busiest time.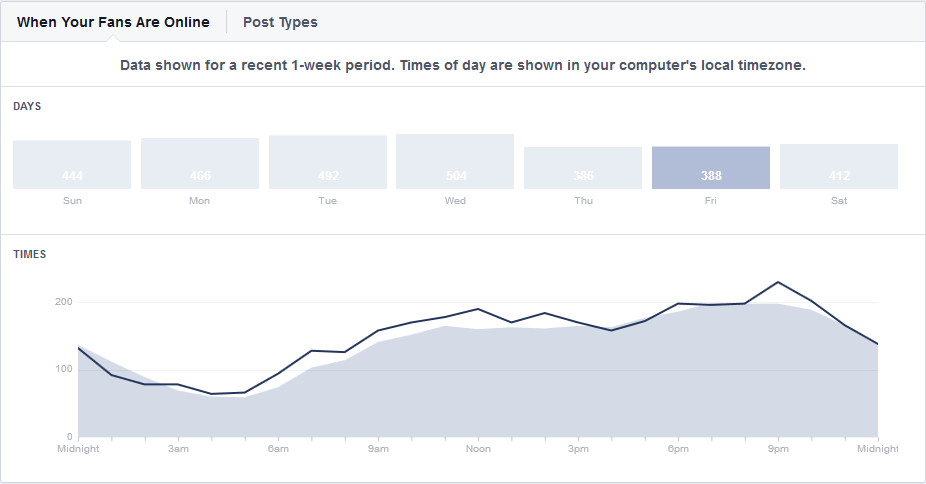 Ideally you should be posting more than once a week, so this is a good way to know what time(s) are best for each day of the week.
The "Posts Types" tab shows which types of posts return the highest engagement rates for your Fans and shows the Reach, number of clicks, and the number of Likes, Comments and Shares.

Remember, all of this information is over a one-week time frame. You'll want to analyze multiple weeks to get a better picture. You can then use all of this information and publish posts during the "high volume" times. You can keep an eye on your analytics and see if doing so correlates with higher engagement rates.
Categorized in: Social Media
Like what you've read? Please share this article