Interview with Erin Everhart of 352 Media Group
Written by Nick Stamoulis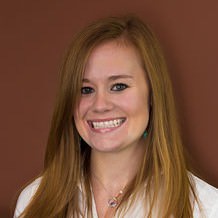 Recently I had the chance to interview digital marketing and SEO expert Erin Everhart. Erin is the director of digital marketing at 352 Media Group, a digital agency providing design, development and marketing solutions for clients ranging from startups and mid-sized business to prominent brands. She's a contributing author for Mashable, Search Engine Land, Search Engine Watch and Small Business Trends, and speaks at conferences nationwide, including SMX, SES and Pubcon.
Thanks so much to Erin Everhart for spending the time to answer all of my questions!
Question: So Penguin 2.0 has been out for a little while now. Any guesses as to what makes it different from Penguin 1.0?
Answer from Erin Everhart: It's been a much quieter Penguin 2.0 on my end. Penguin 1.0 brought some mass terror, like a giant dinosaur attacking a wedding party. (I love that photo from Quinn Miller)
With Penguin 2.0, everyone panicked the weeks leading up to it because there was so much promotion about it, but it didn't ruffle as many feathers. I would say where Penguin 1.0 targeted blatant web spam (over optimization anchor text and distribution being the No. 1), Penguin 2.0 just got smarter in the types of things it considers spam. I think that also means we'll be seeing a bigger push for strong branding in your search presence.
I love Danny Goodwin's article on SEW about why Penguin 2.0 sites got hit. It talks about how Glenn Gabe found that with some of the sites that got hit they had heavy anchor text to deeper inner pages, rather than just the home page, which looks unnatural.
Question: Can Google's Link Disavow Tool actually help a site that's been penalized by Penguin?
Answer from Erin Everhart: Absolutely, but you really need to be careful how to use it. I'm not a huge fan of disavowing your links and would much rather build better links. Those older lower quality ones will eventually drop off Google's radar as you have more quality ones.
Plus, disavowing is really ONLY if you get hit by Penguin. Some people may disavow if they think they got it or just out of sheer terror that they could get found out. And if you haven't actually been hit, you're just drawing attention to yourself.
Question: You wrote a great post about what happens when you stop investing in your SEO program. Why do you think that site owner (and many others) called it quits even when SEO has proven itself?
Answer from Erin Everhart: I think they just don't realize that SEO isn't a one-time effort, and maybe that's our fault for not clearly explaining that to site owners in the beginning.
I can get it from their perspective though: They shell out thousands and tens of thousands of dollars each month, the first 4 months they probably don't many results and they're starting to get squeamish. Then in months 5-7 they start to see that trend line going up. Month 8-9, traffic (and business is booming) and they want to stop to try to recoup some of that investment in the first few months, but we all know how that will end up.
Maybe every site owner has to actually experience it before they can understand that it takes more than a one-time to push for sustainability.
Question: How many links is "enough" each day/week/month to keep your SEO program from slipping?
Answer from Erin Everhart: This is a really common misconception: It's not just about adding more links for a sustainable SEO program. That's definitely a part of it, but it's not the only thing. There may be months that we don't build a single link for a client because we're working on CRO or content development or META tag testing or A/B testing and they don't slip because their site is active. That's probably more important than making sure you build 5 links a day because let's face it, those 5 links you try to build in a day are probably not the best quality.
We don't promise our clients a certain number of links each month because so many times that can be unrealistic. Or you get down to the last week of the month and realize you're 5 links short of your quota and then you scramble and get bad quality links. That's not benefiting anyone. Instead, we focus on getting our clients more customers which equates to more business. They care a hell of a lot more about profit than they do links.
Question: "Well I'm out of link building ideas." What do you say to that site owner?
Answer from Erin Everhart: Ha! I just wrote a post on this: http://searchengineland.com/3-ways-to-break-the-link-building-block-160971
Question: What's the worst link request/outreach email you've ever seen?
Answer from Erin Everhart: This is the worst I've ever gotten. It's just…I mean…I can't…Just no.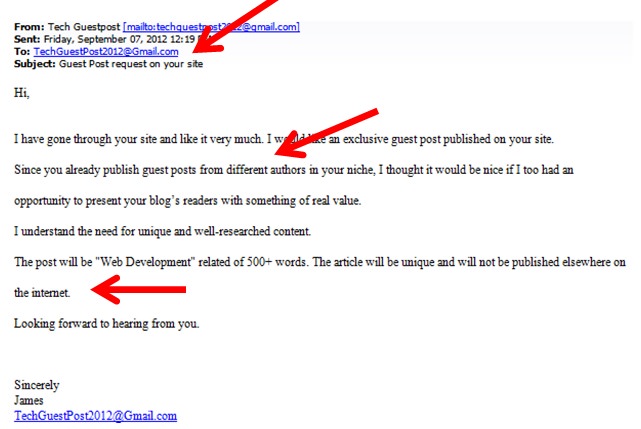 Way to send it to yourself and BCC lord knows how many people.
Yes, because I publish guest posts, you're automatically allowed to get in on this too.
That's a line break. In the middle of a sentence.
I literally cannot make this stuff up.
Question: Do you think social signals and author authority will ever weigh more heavily than links in the search algorithm?
Answer from Erin Everhart: My heart of hearts wants to say yes, but it probably won't. Links are critical. Well, wait, let me rephrase: Quality links are critical. I definitely think Google is moving away from "They have the most links" to "They have damn good links pointing to some equally damn good content." Links will always matter, but links without social signals could easily be coming under scrutiny.
Just look at the Top 10 results for most search queries. Most of them are brands and real businesses, not EMDs.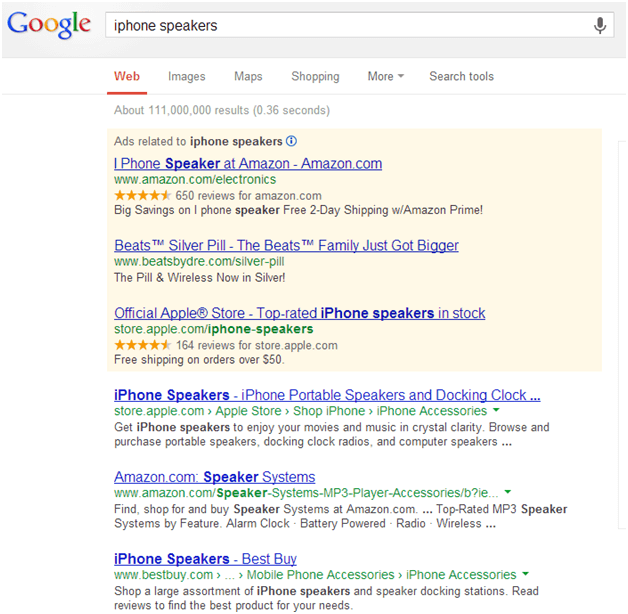 Question: Do you have any favorite link building tools?
Answer from Erin Everhart: I've tried and tested a bunch out there, but I've never been really impressed with the quality of sources they bring back. I feel like it takes me just as much time to sort through the crap they give me to find the good ones than it would do prospect on my own.
Some non-traditional link building tools I love though are: Ubersuggest, Google Advanced Query searches, Followerwonk, Google Analytics and StumbleUpon. You can see how to use them here: http://searchengineland.com/5-tools-you-never-thought-to-use-for-link-building-144749
Question: You write for some pretty heavy-hitter industry sites (Mashable, Search Engine Land, and Search Engine Watch, to name a few). What steps can a new-to-the game marketer take to work their way up to that level of guest blogging?
Answer from Erin Everhart: Hunt people down. This all goes back to the relationship building aspect of things. If you're new and want to get involved in the industry, building relationships with fellow digital marketers is the only way to do it. Follow them on Twitter. Tweet them. Offer to buy them a beer at conferences. Digital marketers are uber competitive, but we have everyone's back.
For Mashable, I was able to grab coffee with the then features editor, Matt Silverman. For Search Engine Land, I stalked Elisabeth Osmeloski at SMX to follow up on emails I sent her about a post idea. For Search Engine Watch, Danny Goodwin and I were at the same bar and we just started chatting about contributing. It's all about actually knowing the people who want to write for.
Question: With so many companies jumping on the guest blogging bandwagon, what can site owners do to help their pitches stand out?
Answer from Erin Everhart: I'm extremely passionate about link building being more about relationship building, especially when it comes to guest blogging. Blogs get bombarded with link/blog requests daily, so if you really want to stand out, go the effort in actually knowing the person, not just the website, of who you are pitching to. I also love using social media to find sources because it puts me in touch with the person first rather than the source, and that's ultimately who you're trying to reach out to.
Question: Do you think guest blogging is being abused as a link building tactic? Will Google ever crack down on guest blogging?
Answer from Erin Everhart: I do hate that it gets such a bad rap because guest blogging can bring some seriously amazing results — we actually just got another lead from a Search Engine Watch article I just wrote —but it has to be done correctly, which is like all link building tactics, really. It's absolutely being abused, and that's so frustrating for the people who do it right because everyone gets lumped into the same category of "those SEOs."
As with Google cracking down, it may but it's going to be so hard to police and monitor. I think they're trying to do that with Authorship, and it's probably cut down some of the spam, but how would Google's bot's differentiate my author box on Mashable to someone else's just doing it for a link.
I have a hard time seeing that they'll discredit all of those author box links because there is so much  value in brand building in guest blogging, so maybe they'll just start crediting links within content (like they always have, IE paragraph links over footer links) more than what's in your author box.
Question: What do you like the most about speaking at SMX?
Answer from Erin Everhart: The camaraderie. SEO and digital marketing is a fairly new industry and there really aren't a lot of people who do it well in comparison to the other professions. So when I randomly meet someone who also does digital, I'm ecstatic to swap information. Now, imagine getting 500 of those types of people in one area together. It's incredible the people that you meet, the relationships you build, and the information who learn. And I love the sessions, but you'll learn much more about someone and their tactics if you talk to them at the bar because it's a much more casual setting.
Question: Where do you go to stay abreast of what's new in the world of SEO?
Answer from Erin Everhart: Twitter. It's the easiest place where I can stream through information. I have lists that I follow so I never miss tweets from people who consistently send out articles and industry related information. I can't read every blog post, nor do I pretend to, so I rely heavily on my fellow SEOs to share information. That's the best thing about this industry: You'll rarely find someone who refuses to share their expertise.
This non-paid interview is designed to give the Brick Marketing audience insights and different perspectives of SEO, link building, social media and web marketing. Past expert interviews include: Ann Handley, Eric Ward, Mike Moran, Andy Beal, and Jordan Kasteler to name a few.
If you would like to be interviewed by the Brick Marketing team please contact Brick Marketing here:
https://www.brickmarketing.com/contact
Categorized in: Expert Interviews
Like what you've read? Please share this article