Duck Duck Go Hit 3 Million Searches Thanks to Privacy Issues
Written by Nick Stamoulis
Duck Duck Go appeared on the scene a few years ago, vying to become a real search competitor to Google and Bing. Duck Duck Go's staked its search value on privacy as they do not store IP addresses or log user information. While the new search engine had done okay for itself, Duck Duck Go hit a milestone last week when they hit 3 million searches in a day. The most amazing thing is that only a week before that they announced hitting the 2 million mark.  So what spurned this spike in search traffic? Well since news about the NSA PRISM surveillance program broke, the average user has become much more concerned about what kind of personal information the search engines are tracking and reporting on. Since the PRISM news broke, nearly every day has been a record search day for DuckDuckGo.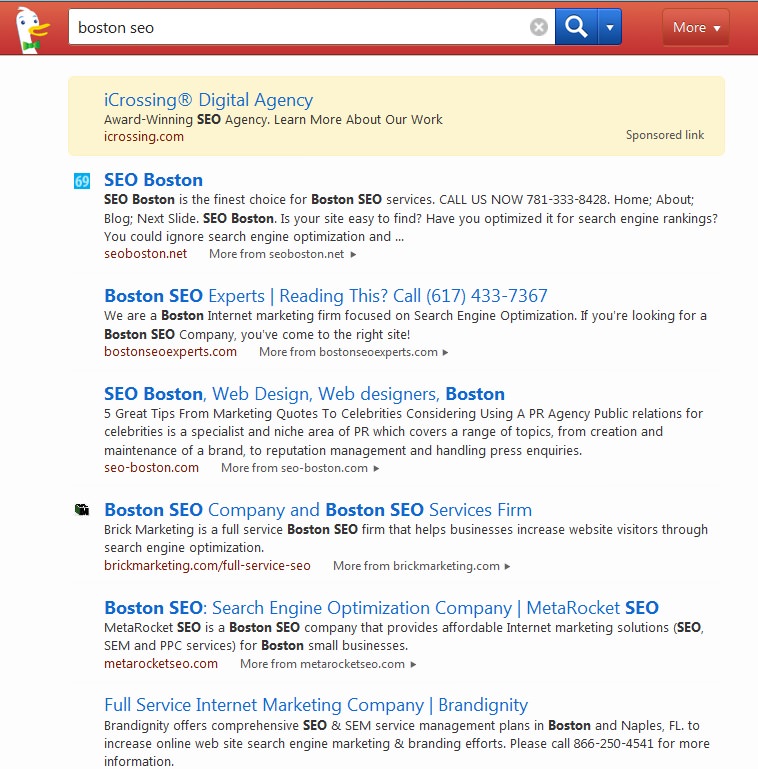 Google and Bing both say they have privacy policies and any site owner that has to work around "Not Provided" data can attest to that, but many don't feel like the privacy policy is all that comprehensive. Some would even argue Google has a double standard, as the same "Not Provided" data is still included in Google AdWords campaigns.
Duck Duck Go's search results are a compilation of multiple search sources, including Yahoo! Search BOSS, Wikipedia, Wolfram Alpha, Bing, and its own Web crawler the DuckDuckBot. Do a quick search in Google and then Duck Duck Go for the same thing, like "Boston SEO." Notice any differences? In addition to two different site orders, I see some sites in Google that aren't in Duck Duck Go (and vice versa) and in Duck Duck Go you just have to keep scrolling to get more results, not actually click over to page 2. It seems like, for that particular search anyway, some of the bigger brands and sites you normally see in Google aren't actually at the top of Duck Duck Go, which means Duck Duck Go could be a very valuable search engine to smaller businesses looking to make their mark.
I don't think Duck Duck Go is suddenly going to usurp Google's position as search market share leader, but if this trend continues it could mean that more and more of your visitors might be using alternative search engines to do their searching. For the most part, whenever anyone talks about "the search engines" they are pretty much talking about Google. Yes, Bing and Yahoo are still fairly big players but they don't have remotely the same amount of search market share as Google. But as the average user gets more and more concerned about their privacy it's entirely possible that Duck Duck Go and other "niche" search engines will start to chip away at Google's dominance.
Here is what Duck Duck Go says about privacy;
"We route (redirect) that request in such a way so that it does not send your search terms to other sites. The other sites will still know that you visited them, but they will not know what search you entered beforehand."
This is very much like Google's "Not Provided" data, but it is done for every single Duck Duck Go searcher, not just those logged into their Google accounts. If more and more of your users turn to Duck Duck Go you'll lose some of the keyword data many of us have come to rely on to help shape our SEO and content marketing programs.
Categorized in: Search Engines
Like what you've read? Please share this article