How Do You Determine Social Media Success?
Written by Brick Marketing
In a previous post we discussed how one tweet does not usually turn into one sale. Being active on social media can generate a lot of positive outcomes for your brand, but a direct contribution to your bottom line is usually not one of them. For most businesses, even B2C retailers', being active in social media helps them connect with their target audience time and time again, drive people back to their site, build their social reputation, and more. But when it comes to generating sales social media marketing has a more roundabout impact. Sites that expect to get active in social channels and blow up their bottom line are bound to be disappointed. Lucky for us, it seems like more and more sites realize that's not the goal of social media.
According to the State of Search 2013 report, put out by Econsultancy and SEMPO, the top three metrics for social media success are brand perception, customer engagement, and traffic volume.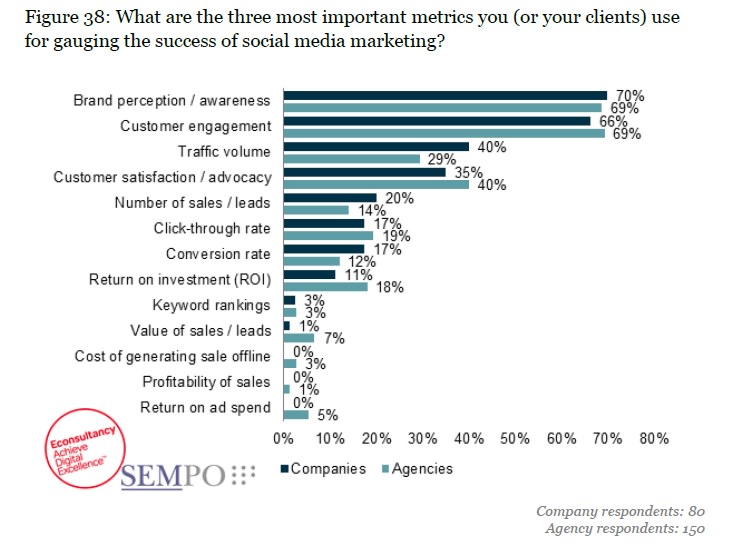 Growing the number of leads/sales via social barely cracks the top 5 social media success metrics. To me, that's a good indication that more and more sites understand the long-term role that social media marketing has in their greater marketing programs.
Social media, much like SEO, is not something you can set and forget. Being active in social media means checking in daily with your target audience and social connections. Get involved in conversations, ask questions, share content and ideas and get people talking about your brand, products, and industry. And while you can measure how many reTweets you might get, how many followers you gain over time, and other tangible metrics like that, you can't always tie those actions directly to the bottom line. For instance, how many times does a Twitter follower have to interact with you before they buy? They might be a Twitter follower for 6 months, read your blog a few times a week, Like your company Facebook page, and check out your website a 1/2 dozen times before they actually convert. Does that mean your social media marketing efforts aren't successful? No, it just means your social media marketing activities are actually part of the bigger picture.
Brands can still be successful without a super heavy social media program, but the longer websites stay out of the social media game the more ground they stand to lose. Your customers may not be heavy social media users but they are out there in some way, shape, or form.
So how are you gauging your social media success? If you are only looking at how many sales and leads your social connections lead to (which is possible) you are actually undermining your hard social work. Look at social channels as a source of traffic, as a way to start conversations with your customers and prospects, and as a way to build your overall online brand. Social media success cannot be measured in dollars and cents alone because it's not a one-to-one program.
Categorized in: Social Media
Like what you've read? Please share this article