Is Your Content Covering the Whole B2B Buying Cycle?
Written by Danielle Bachini
If you're a B2B marketer looking to grab the attention of B2B decision makers that would be interested in your product or service, there's no better way to do so than to be publishing quality online content on a regular basis. This excerpt from a Forbes article says it all: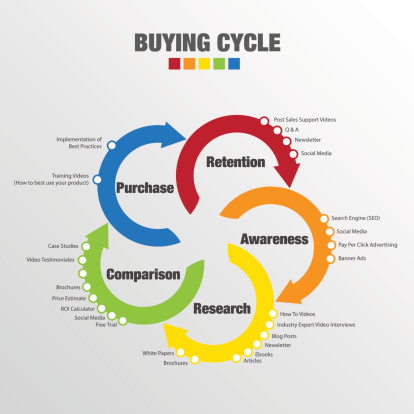 Consumers tune out TV commercials, look past billboards and print ads, and ignore buttons and banners online. They search and find the information they want when they want it. To reach customers nowadays, especially on the Internet, you have to tell them, not sell them.
In a survey by Roper Public Affairs, 80% of business decision-makers said they prefer to get information via articles, not ads. Seventy percent said content makes them feel closer to a company, and 60% said content provided by companies helps them make smarter buying decisions.
There's no question. Content marketing is where it's at today. High quality content is what ranks in the search engines, delivers traffic to your website, engages prospects, converts leads, and retains customers. The B2B content marketers that are having the most success are the ones that understand that a content marketing strategy should correlate with the B2B buying cycle.
Think about all of the different stages of the buying cycle. First, you need to raise awareness. Content created for potential prospects needs to cater to their level of knowledge. There's a good chance that complicated articles filled with industry jargon are going to be a turn off. Initially, this segment of your target audience is looking for information that's easy to digest. Not to say that it should be "dumbed down" by any means, but the purpose is to hook the reader and keep them interested enough to keep reading and welcome the opportunity to read future content that's published.
Next, you need to turn prospects into leads. This content can move to a slightly more advanced territory. This content is geared towards the people that have been reading your blog, email newsletters, social posts, etc. for quite some time. They understand what your company does and have learned about the industry, now they really need to know what your product or service is going to do for them. Remember, articles aren't ads. There's still no push or hard sell but the content should make it clear- your company would be better off with our products or services.
This last segment of your audience is one that can sometimes be ignored but really is your most valuable- your current customers/clients! Don't forget about them as you create your content. Just because they made the purchase or signed a contract for services doesn't mean they've disappeared. They're still checking you out in social media and reading your newsletters. Chances are they might even be paying closer attention now! The initial "buying" may have been completed but retention is still an important part of the buying cycle. Be sure to incorporate content into the mix that speaks to this segment as well. It can help with referrals, repeat business, and upsell opportunities.
Categorized in: B2B SEO Marketing
Like what you've read? Please share this article