Why Content Matters for the B2B Sales Cycle
Written by Brick Marketing
According to The Corporate Executive Board, 60% of the sales cycle is over before you speak with a prospect. This means that long before you ever know that potential customer exists, before they download a white paper, register for a webinar or signup for a demo, they are well aware of your company and have a fairly solid opinion of your brand. But if they aren't learning about your products/services from a member of your sales team where are they getting their information? The foundation of your reputation is based on the B2B content you product. For better or worse, the content you create is establishing a "behind the scenes" relationship with your target audience. You might not be actively interacting with them but they are certainly learning about you.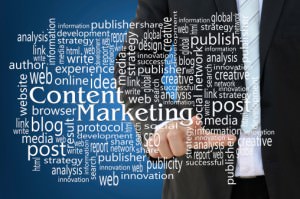 Every piece of public content you create has the potential to be found by a member of your target audience. And when someone is looking to drop $30,000 on a B2B product or service you can bet they are doing their due diligence with all the players in your space. That means consuming as much information as they can—blog posts, fact sheets, free tutorials on YouTube, customer reviews, articles, new reports, and more. All of that content helps establish how they think and feel about your company.
Are you being seen as a trusted resource? As a leader in the industry? Great B2B content helps build your company's authority and can position your brand as the right solution to that customer's needs. By the time they actually become a lead in your sales funnel some of the hardest work, convincing them you might be the right choice, is already done. At that point your sales team's job is to maintain that opinion and foster a stronger, more active relationship with your prospects.
But does your B2B content paint a more negative picture? There is no denying that more content can lead to more visitors and more prospects, but fluff and generic content can actually do more harm than good. There are so many companies out there putting out such fantastic content that thin and boring content doesn't just look thin and boring, it actually looks bad by comparison. That content could actually be preventing customers from entering the B2B sales cycle because they don't have that positive opinion of your company. And if they never become a prospect your sales team won't get the chance to prove otherwise. The wrong content could not only NOT pull in new leads, but it might actually be pushing them away!
Whether you like to admit it or not, every piece of content you push out (including social updates, emails, newsletters, and so forth) is having some kind of impact on your audience. Obviously certain types of B2B content are going to generate more activity and engagement than others, but the whole is greater than the sum of its parts and your overall reputation is affected by everything you publish. What is your content doing for your B2B sales cycle? Is it helping pull the right prospects with the right attitude into your sales funnel or is pushing them even farther away?
Categorized in: B2B SEO Marketing
Like what you've read? Please share this article