Ways to Build Your Content Audience
Written by Nick Stamoulis
In a recent interview with Jeffrey Rohrs, VP of ExactTarget's Marketing Insights Team, we asked him how a website owner can get their content the attention it deserves.
His response: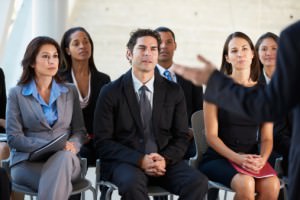 "Content marketers need to understand that publication does not equal distribution. "Build it and they will come" strategies are a path to failure for websites, mobile apps, videos, and content of every shape and size. Accordingly, content marketers need to take a greater interest in helping their companies build what I call proprietary audiences—the subscribers, fans, followers, and other direct audiences that you can reach with the push of a button & instantly supercharge the distribution of a new piece of relevant content."
In addition to investing in content writers that are going to be creating great content, it's also necessary to be spending time building up your audience to guarantee that that great content will be seen. Building up an audience isn't an exact science and it can be different for every website owner depending on their niche and target audience but here are a few ways to generate that "built in" audience:
Produce great content on a regular basis
This may sound like "build it and they will come", but it's what will improve the visibility of your content over time. The more great content that you produce, the greater the likelihood is that your audience will share it, link to it, etc. and that others will find it and then become a fan, follower, newsletter subscriber, etc. themselves.
Simple newsletter sign up
Email newsletters are still a very effective way to market your business as long as you take the right approach. Email newsletter subscribers need to opt-in themselves and what's offered in the newsletter needs to be relevant to the recipients' interests. Email newsletters are a great way to stay top of mind among target audience members. A newsletter sign up form should be prominent on your website with a strong call to action. The sign up form should be simple to fill out. If the form is too long or asks too many questions it will deter people from signing up.
Follow others in social media
One way to earn social media followers is to follow others in the industry or in related industries. In some cases the follow will be returned, meaning that it's one more person in the industry that will see and potentially share your content with their network. It's a first step towards future networking opportunities.
Social advertising
Another way to gain relevant followers in social media is to invest in social advertising. Each social network allows advertisers to target specific users that are interested in a particular niche. It's necessary to spend time researching industry publications, events, etc. that your target audience would be interested in and then target social network users that are following those accounts. Users can be targeted by a number of other demographics including age, education level, and location.
Categorized in: Content Marketing
Like what you've read? Please share this article