Interview with Local SEO Expert Chris Silver Smith
Written by Nick Stamoulis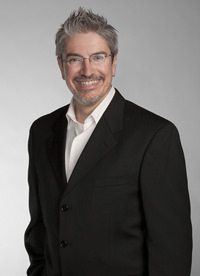 Recently I had the chance to interview local SEO expert Chris Silver Smith. Chris is the President of Argent Media, a Dallas based search engine marketing company. Chris also serves on the board of advisors for Universal Business Listing and on the SEO advisory board for FindLaw, a Thomson Reuters business. Chris also writes for the Local Search column at Search Engine Land. He also speaks at SMX conferences.
Thanks so much to Chris Silver Smith for spending the time to answer all of my questions!
Question: You worked for Superpages.com back in the day. Did you ever imagine local search evolving into what it has become?
Answer from Chris Silver Smith: At the beginning of my employment at Superpages back in 1997, none of us quite realized the nature of the massive paradigm shift that the internet brought! Although we were working on the web version of the Yellow Pages, we all thought of it as a cool new additional option to using the printed directories – not an absolute replacement. Once the internet evolved to allow speedier connections, continuous connectivity and mobile/wireless options, it became very clear very fast that the YP book usage was going to drop dramatically.
Further, I never would've imagined that local search would continue to be so diverse and spread out among a great many sites, apps and search engines. I remember hearing Justin Sanger lecturing to audiences at conferences back in 2004 or perhaps earlier about the fractured nature of local online marketing, and that situation hasn't really changed, although Google Maps and Bing/Yahoo now have a very large market share in terms of usage.
As a strategist, I always work to try to logically plot out the most-likely paths for tech development in order to predict outcomes and recommend directions for companies. As things currently stand, the fractured nature of local online marketing is going to continue, and there's no clear front-runner that will absolutely vanquish all other local information competitors. Google Search and Google Maps continue to have a huge degree of market share, but they have failed somewhat in evolving into the end-all/be-all of local information providers, necessitating that consumers must still use numerous sources to obtain info necessary to find and select businesses that meet their needs. It's still possible for a company to come along and deploy a disruptive technology that might grab consumers.
Question: What's your advice to local site owners that are running scared from Penguin?
Answer from Chris Silver Smith: Obviously, if you have clearly been penalized, you need to try to fix your situation and get into compliance with Google. For site operators who are not heavily experienced with SEO, they really need to call in an expert to help them clean up links.
Looking forward, you can't go too far wrong if you're working to continuously publish good, high-quality content, and focus on users. I've used conservative practices around link-building for many years at this point, and my research sites really have never been impacted much by the big spam-fighting search engine updates. Focus on ways to inspire users to link to you, rather than trying to force links – use "pull marketing" rather than "push marketing".
Also, social media development is a great way of building your influence – with search engines as well as with consumers – and, it has the added benefit of helping to reduce your dependency on any one channel for leads.
Question: Could a business ever run out of local link building opportunities?
Answer from Chris Silver Smith: I doubt it.
Question: How could a business take full advantage of a local news site like Patch.com?
Answer from Chris Silver Smith: Posting intelligent and helpful comments about articles related to your industry can be an effective means of entering the conversation. However, one needs a great familiarity with online interactions and some sensitivity about not being an advertising robot when doing it, or it will be counterproductive. Naturally, you should make sure your business is showing up in your local Patch's directory, and if it isn't, add your listing.
If Patch ranks well for local news searches, it might be a good place to actually advertise, in order to have a more optimal listing – it's a good source for local citations.
Look for active Patch community editors for your area, and contact them to see if they would write an article about your business. Consider offering free products or services if they'll write a review of you, and do not place restrictions (such as, do not offer a freebie in return for only a positive review, or it could bite you).
If your business is involved in events, get those events posted to Patch, too.
Question: If your address isn't in the center of the city do you have any chance of dominating local SERPs?
Answer from Chris Silver Smith: Yes, but you need to be working on traditional promotion in addition to purposefully pumping up your online presence. It requires hard work, but it works.
Question: How can a business in a major metropolitan area like Boston or NYC stand out in local search?
Answer from Chris Silver Smith: Absolutely! But, with the competition of a large market area, you may need to step up your game in every aspect of your business. Ask yourself if you deserve to be in the top 7 or top 10 businesses in your vertical for your area. Your product/service had better be top-notch, as well as your customer service! Are you in one of the more popular, more-used areas in the city? You must also look to trying to promote yourself in every channel you can possibly stretch to include – are you: blogging, Tweeting, Facebooking, Instagramming, Flickring, PPC advertising, SEOing, Grouponing, Couponing, and participating in local charity events and local festivals? Amp up your buzz as much as possible to try to drive your way up the ladder in local search! Don't expect to accomplish it all for free, on-the-cheap, without taking an ongoing interest and without performing ongoing activities.
For highly competitive markets, local search optimization is not likely to be a situation where you can set-it and leave-it while expecting it to perform optimally.
Question: What should a site owner do if they come across a local business listing they didn't create?
Answer from Chris Silver Smith: Once you're listed in a few online business directories, you should expect your listing to get replicated across the net. If you can claim and improve the listing further, you should do so. It's only if the listing has inconsistent or incorrect information that you really must work to try to get it fixed – incorrect/inconsistent listing info can impair your rankings in search, and if it's wrong in one place the chances of that error spreading are very high.
Question: If a business has multiple locations in different cities is it better to create entirely new website for each location or just create a location page on the main company site?
Answer from Chris Silver Smith: Creating good location pages for each place where you have a store is the best approach in most cases. Some hotel chains create separate sites for each place, or separate subdomains for each, but that's likely to be prohibitively expensive for SMBs. Just creating good, robust profile pages on your site for each location will accomplish everything you need.
Question: What advice do you have for local businesses like plumbers or contractors that aren't limited to a set zip code? How can they target multiple locations with their SEO?
Answer from Chris Silver Smith: Quite a lot of companies attempt to game the Google system with woefully insufficient sophistication. Doing that will cost you too much, because the risk of penalty is too high!
You can rank without an address and by selecting to not display your address and setting the "service area" for your business. You really must do all the things necessary to promote the business and perform very good Local SEO to accomplish it.
Keep in mind the advice I gave above for what businesses must do to stand out in a major metro area – even in smaller towns, there can be dozens or hundreds of plumbers or contractors – why should your business stand out above the competition?  What makes you special enough to stand out in a list of the top 7 or top 10?  You will need to push your promotional activities in order to stand out – that means investing, either by expending your time consistently to do it yourself, or by hiring a professional to do the local SEO gruntwork.
Question: What's the difference between a link, a citation and a review?
Answer from Chris Silver Smith: Technically, a link and a citation and a review could all be "citations" in Google's eyes. Google's original PageRank algorithm was based upon the idea that the relative importance of any type of thing could be calculated by how many times people refer to that item. They first demonstrated this by ranking scientific research papers – research papers always cite other previous research papers which influenced the work, so Google's founders recognized that these citations could be counted up – research papers that were mentioned in the references of other research papers more were therefore more important.
Applying this same logic to the internet, Google's founders said that links were a sort of citation, and they calculated pages' ranking weights, a.k.a. "PageRank", based off of the numbers of links pointing to them along with the relative importance of the pages linking. Later, a similar ranking algorithm was developed for local businesses using the concept that whenever someone mentions an identifiable element of a business, it could be considered to be a citation of the business. So here are the differences for links, citations, and reviews when we talk about local search marketing:
Link – a link is any time that someone posts a hyperlink pointing to a webpage on the internet. Hopefully, the link is pointing to your business website or one of your social media pages! Links are still influential in Google's ranking algorithms – in regular keyword search results, in local search results and in Maps searches.
Citation – a citation can be any time someone mentions your business name along with your phone number, and or your business's address.
Review – many online business sites including Yelp, Google, Superpages.com, YP.com and others, allow one to review businesses. Reviews and ratings can obviously affect your "conversion rate" (a.k.a. whether someone chooses to become a customer), but the rating values – whether good or bad — don't directly affect local rankings. Since a review will be a mention of your business, it can be counted as a "citation". And, the numbers of reviews can be an indicator of popularity in the Google algorithm, so remind or encourage your favorite customers to review you online.
Question: How important are reviews for local SEO success?
Answer from Chris Silver Smith: Having the number one ranking will not serve a business very well if it's paired up with a low rating like one star, obviously. So, reviews can hurt your promotional performance. For some industries that people more frequently rate, like restaurants and hotels, reviews and ratings may be table-stakes for achieving good rankings in Google, since the search engine could opt not to rank a business with few-to-no reviews compared to others with more. Having reviews added continuously over time is an indicator of relative popularity – so, depending on the industry, they may be very important.
Question: How can owners tie social media into local SEO to help promote their business?
Answer from Chris Silver Smith: Most local businesses set up social media accounts and then leave them to stagnate, which does nothing. Another "sin" is to be overly self-referential or overly self-promotional – which grows old quickly. Actively invite your customers to connect with you, to interact with you, and also post things that are not all about you and your business. Retweet or share items that would be of high interest to people in your area – major news events and interesting stuff posted by the most popular people in your area. Once in a while, reward your social media followers with discounts or special offers – have a night where your store is empty and social media can be a great option for filling the place up with more customers and more sales!
Question: What do you say to local business owners that aren't worrying about mobile SEO?
Answer from Chris Silver Smith: If they have Google Analytics set up with their website, they're likely to be able to see an increasing trend of mobile visitors over time. That alone should be an indicator that mobile must be considered a necessary part of the mix.
Regardless, mobile is important, particularly in the presentation of your website information – optimizing for good display is a major piece of mobile optimization, along with all of the factors that work well for conventional SEO. For local businesses, hours of operation may be a very important factor to include with the site and with business directory profiles for mobile optimization, too.
*****
This non-paid interview is designed to give the Brick Marketing audience insights and different perspectives of SEO, link building, social media and web marketing. Past expert interviews include: Ann Handley, Eric Ward, Mike Moran, Andy Beal, and Jordan Kasteler to name a few.
If you would like to be interviewed by the Brick Marketing team please contact Brick Marketing here:
https://www.brickmarketing.com/contact
Categorized in: Expert Interviews
Like what you've read? Please share this article