Changes to the SEO Game
Written by Nick Stamoulis
2013 was a year of dramatic changes for the world of SEO. Google made significant changes to the Webmaster Guidelines, another few rounds of Penguin were dropped on our heads, keyword data was locked up 100% (a far cry from the original 10% we were promised), and more. All of these changes have changed the SEO game dramatically for both those of us on the agency side and our clients.
According to the State of Search 2013 report, put out by Econsultancy and SEMPO,
…the most significant trend was that of 'not provided' keyword data; 83% of client-side and 88% of supply-side respondents thought that this trend of Google hiding keyword data was either 'highly significant' or 'significant'. Hummingbird/Penguin/Panda algorithm changes and the increased use of mobile by consumers were also frequently cited as significant issues.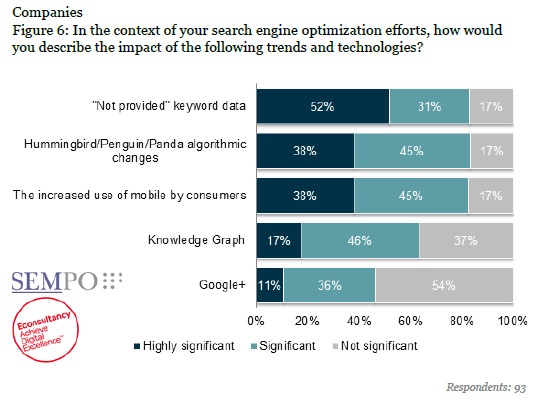 'Not provided" data has been hanging out around 80% since September 2013. While Google says you can use Webmaster Tools data to fill in the gaps, by removing keyword level data from Google Analytics sites have a harder time tying particular search queries to conversions. My working theory is that Google removed that keyword data to help reel in black hat link practices and anchor text usage. If you don't know which keywords are converting the best you can't dump all your SEO focus on those keywords. That, coupled with the actual penalty you can get for overuse of anchor text, is Google's attempt to curtail spammers.
According to the State of Search report, 'not provided' data is a bigger concern for sites owners than even Penguin and Panda updates. My thought is that when sites know they are playing by the rules they know they can ride out any algorithm updates that may come down the pipeline; they might even be helped by it. While you can't control how often Google updates the algorithm, you can control your own internal linking practices. But you can't pull data when there is none to be had unless you are willing to spend a long time combing through multiple sources of information and hope you come up with something close to reality. By making keyword data in Google Analytics a thing of the past, Google is changing the way site owners measure and track their SEO program. Removing that data also makes it harder for SEO providers to guide their clients' SEO campaigns.
With all the SEO changes that came in 2013, I have to wonder what Google has up their sleeves for 2014. Matt Cutts recently came out against guest blogging, but what link-building tactic is next on the chopping blog? In a perfect SEO world Google would have not site actively building any links, but most of us don't live in that world. Google also changed up the keyword research tool in 2013, moving to the keyword planner tool. Is Webmaster Tools due for a facelift in 2014? Will Google+ suddenly get more present in the SERPs? SEO is very much controlled by Google, whether we like it or not, so it will be interesting to see what comes our way this year.
Categorized in: SEO
Like what you've read? Please share this article