5 Blog Commenting Rules to Follow
Written by Danielle Bachini
Blog commenting remains a relevant SEO link-building tactic. Many blogs "no follow" comments today, but that doesn't mean that blog commenting is "out" for SEO. It's still a way to create an inbound link pointing to your site that builds brand exposure and generates traffic. That being said, there's a right way and a wrong way to approach blog commenting. Follow these rules and you'll stay in the clear.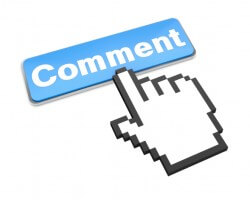 Rule #1: Use a real name
If you are blog commenting on behalf of a business, it's necessary to determine whose name within the business you will be using. Yes, it needs to be a real person. That person doesn't need to be the one commenting but they should know that their name is being used. A comment that is left as "XYZ Company" or even worse, a keyword or keyword phrase, is probably going to be ignored and might even be flagged as spam.
Rule #2: Comment on industry blogs only
The only blogs that you should be commenting on for business purposes (with a link back to the company website) are blogs that are related in some way to that business. Feel free to comment on whatever blogs you'd like in your free time, but don't link back to the business on unrelated blogs. Each link is a signal to the search engines. If a link to a software company website is coming from a cooking blog, that confuses the search engines and could raise a red flag.
Rule #3: Leave a good comment
In addition to using a real name, this is another factor that blog owners consider as they decide whether to publish the comment or not. A comment that simply says something like, "Great post!" isn't adding much to the conversation and doesn't prove to the author that you did in fact read the post. If you're going to comment on a blog post, you obviously need to read it first. Then, formulate a thoughtful comment that's at least a few sentences long.
Rule #4: Don't rely too heavily on it
Matt Cutts of Google made it clear that blog comments should not be the sole focus of any link building strategy:
If your primary link building strategy is to leave comments all over the web, to the degree that you have a huge fraction of your link portfolio comments, and no real people linking to you, then at some point that can be considered a link scheme. At a very high level we reserve the right to take action on any sort of deceptive or manipulative link schemes that we consider to be distorting or rankings.
Rule #5: Keep it natural
It's worthwhile to make commenting on industry blogs a part of your routine, but it shouldn't be forced. Keep it natural and don't worry so much about hitting certain quotas.
Categorized in: SEO
Like what you've read? Please share this article