Interview with Benjamin Spiegel, Director of Search Operations at Catalyst Online/GroupM
Written by Nick Stamoulis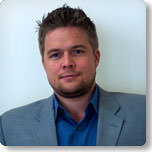 Recently I had the chance to interview Benjamin Spiegel, the Director of Search Operations at Catalyst Online/GroupM. Benjamin defines the organic search process, creates the agency's SEO offerings, develops campaign strategies, and oversees talented teams of SEO managers and directors. He is a frequent writer for ClickZ, Markering Land, Search Engine Land and more.
Question: How do you manage multiple search teams for multiple clients without things slipping through the cracks?
Answer from Benjamin Spiegel: First of all, I am fortunate to work with some amazing people here. Our search directors have an average tenure of over 7 years, which makes them accustom to managing multiple campaigns and client teams. This makes my job easier! Secondly, Catalyst has an established process to ensure nothing slips through the cracks. This begins with our project management team. They keep us organized and focused, and help us operate as efficiently as possible. Our account directors do a lot of the "heavy lifting" on the client side. They update the search teams with the newest brand goals and product information, and ensure that we are aligned and work with our brands' overall goals in mind. In a nutshell, the way I'm able to do this is by having great teams!
Question: What are some of the biggest differences between an SEO program for a Fortune company versus a small business?
Answer from Benjamin Spiegel: I have worked with both types of companies and it is really two different worlds. The biggest difference is the level of complexity. Fortune companies tend to invest in many additional channels, such as Broadcast, Radio, and Out-of-Home, etc., and they also work with several agencies (creative, technical, PPC, Display, SEO, Social, PR etc.). This can make integrated efforts more challenging, especially when you factor in navigating agency relationships, and all the additional reviews and approvals necessary. For example, with smaller brands, you design a page, you optimize it, you publish it, and then you tweet about it. But in the enterprise world, we would be talking about multiple SOWs, inter-agency meetings, and a ton of legal and finance approvals.
Question: Are there any unique SEO challenges that large businesses have to overcome?
Answer from Benjamin Spiegel: Yes, the communication barrier between brand and search. Most brand managers at Fortune 500 companies do not understand search, and most SEOs do not speak brand. SEOs try to tell brands about title tags, click through rates, and the organic fold. But brand marketers are thinking about gross rating points, MMM, and shelf placement.
SEOs need to realize that search is only a very small percentage of a Fortune 500 brand's budget today. That means they need to do a lot of evangelizing and explain the value of search from a marketing perspective.  They also need to understand how larger brands work, plan, and operate. For instance, they might be confused when a brand manager acknowledges that a link is broken, but claims he doesn't have budget this quarter to fix it – all the while spending millions on TV.
Question: What do you say to site owners that still focus solely on their Top 10 keywords? How do you convince clients that rank isn't the only thing that matters?
Answer from Benjamin Spiegel: As digital is evolving so quickly, brands need to use more holistic metrics, especially given the recent changes in Google's Secure Search. Fortunately, we are in a great position to help brands define their KPIs. Making sure that their business goals are aligned with their digital goals does this. However, brands insist on focusing on their Top 10 listsIn these cases, we try to get them to look at themes instead of the terms, and use other more efficient metrics.
Question: What are some of the best ways a marketing team can show SEO ROI to their C-suite?
Answer from Benjamin Spiegel:Deliver Insights.  I have never seen any other discipline that creates as much data driven consumer insights as search does. Search data is one of the most honest and raw formats that can predict the future. When used correctly, it can definitely influence senior manageme
Do the Math. Use a mathematical approach is to show SEM savings. For example, if you are driving 200,000 visits for your brand, you could showcase the organic savings by presenting Organic Traffic * avg. CPC.
Do the Math. Use a mathematical approach is to show SEM savings. For example, if you are driving 200,000 visits for your brand, you could showcase the organic savings by presenting Organic Traffic * avg. CPC.
What do you think of Google's recent changes to the Webmaster Guidelines regarding anchor text links in guest posts and online PR?
Answer from Benjamin Spiegel: Ohhhh, don't get me started on that!  I usually agree with Google's Quality team and Mr. Cutts because their reasoning makes sense. Google has always asked for things to happen naturally, and if they happen on their own it was okay. However the latest ask from Google is actually hindering the natural process.  Generally, we would work with our brands to optimize a press release to get the most out of the natural syndication/sharing, but now it is more of a preventative measure. Now we have to police the way our brands and partners share and syndicate content. It's a dangerous step where natural behavior can hinder you.
Question: How do you think traditional link building will evolve over the next few years?
Answer from Benjamin Spiegel: While I think it differs between regions, linking as it used to exist is gone. Today it's all about quality vs. quantity. So even if 1,000 blog comments are negative, a nice link from CNN will still have some impact. That being said, when playing in the Fortune 500 space, you really do not want to touch linking anymore. Today we execute holistic, cross-channel strategies. The future will be more about an integrated digital ecosystem, and PR working with social and search to identify and engage influencers.
Question: Will social signals and author authority usurp traditional links when it comes to building your site's organic presence?
Answer from Benjamin Spiegel: Yes! I recently wrote an article at Marketing Land on winning the content war, where I mentioned that there are 40 million different ways to make chicken soup. The question then is, should the one with the most links on the root domain (about.com) rank, or should it be the one with the most social engagement, shares and voice?
Question: Do you think Facebook ads and sponsored tweets are worth the cost?
Answer from Benjamin Spiegel: Do you think an Out-of-Home campaign is worth the cost? I think it depends on the brand / campaign goals. From my perspective, I think it's wrong to do social just to do social. I think there needs to be a holistic planning process involved and a social media strategy with measurable KPIs in order to support a successful execution. Given all of that, yes, it's totally worth it! Social provides some of the best audience targeting available, and I have been part of some campaigns with amazing results!
Question: Content is more important than ever for long-term SEO success. But with everyone producing content how can a small business effectively compete with the big brands of their industry for organic search space and readership?
Answer from Benjamin Spiegel: This is an interesting topic and I have been working on an article about it for a while. But in general, there are 3 options for success:
Define a long tail/local content strategy: You might not be able to win on "Roof Repair," but you surely have a chance to win on "Roof Repair in Bedford, MA."  Or while you might not be able to win on "Grass stain removal" there is a higher likelihood of winning on "Grass stain removal for white jeans."
2) Display targeting: Let's say you are trying to win on a certain query and all of the top sites are publishers (food.com, about.com etc.) All of these publishing sites earn their living from ad revenue. So while you might not be able to be #1 for chicken soup recipe, there is a good chance that you would be able to place a display ad on one of those pages, and gain additional exposure to potential customers.
3) Social Amplification: Google's current algorithm is relying heavily on social signals, and going forward I only see that increasing. So even if about.com has more chicken soup recipes then you, your recipe could perform better if it is more heavily shared, liked and recommended, etc.
Question: How much of an impact has mobile had on the world of SEO (or will have)?
Answer from Benjamin Spiegel: My 4-year-old daughter constantly tries to interact with my computer screen via touch. She can navigate an iPad like a champion, but the concept of a mouse is totally foreign to her.
I think the transition into mobile has, and will continue to, cause a lot of "conflict" in the SEO community. But even when you look at Google, they are still experimenting with the ways they handle mobile content. Yesterday it was m.brand.com. Today it's responsive design. Next week m.brand.com will be back in the search results pages (not literally)….
I think mobile is still very infantile and that we can expect a lot to happen in the mobile space in the next few years, and even months. On the highest level, I believe that mobile is going to change the way we interact with digital content and the way we search. We are already seeing that come together with search based on location, voice, and/or camera.
Connect with Benjamin Spiegel on LinkedIn and Twitter, and Google+.
*****
This non-paid interview is designed to give the Brick Marketing audience insights and different perspectives of SEO, link building, social media and web marketing. Past expert interviews include: Ann Handley, Eric Ward, Mike Moran, Andy Beal, and Jordan Kasteler to name a few.
If you would like to be interviewed by the Brick Marketing team please contact Brick Marketing here:
https://www.brickmarketing.com/contact
Categorized in: Expert Interviews
Like what you've read? Please share this article