Looking For Quick B2B Visitor Growth? Look to LinkedIn
Written by Nick Stamoulis
I was on the phone a few months ago with an SEO client, discussing their first completed link building reports. At one point during our call the client asked me if we had noticed any trends in their organic visitor growth. I pointed out that it's hard to define a trend with just one month of link building under our belts (we'd also completely optimized their site and I don't know if I've ever worked with a client that implemented changes so readily!) but what the heck, let's take a look at their Google Analytics and see if there was a little visitor growth to celebrate about. I wasn't expecting to see much, maybe a extra hundreds visitors or so from some of the content we'd been writing and publishing, so when I saw these percentages in visitor growth my jaw dropped.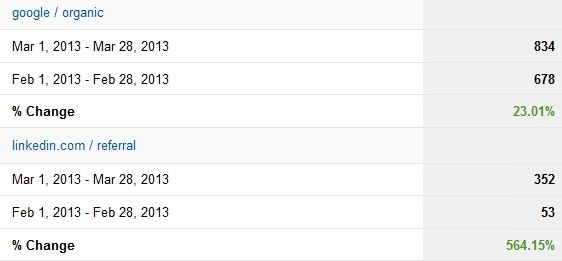 Organic traffic from Google was up 23%, which is nothing to slouch at for only one month of SEO and content marketing working under our belts. But what really blew my mind was that visitor growth from LinkedIn had jumped by 564%! When I told my client this he was just as stunned as I was and all he could say was, "Well that's a lot better than anything we ever got from any LinkedIn ad campaigns and we had to pay for those…"
I know a lot of B2B websites are looking for quick and easy visitor growth. After all, it's a lot easier to convince the C-suite to approve of/give you more of an SEO budget when you show impressive results sooner rather than later. Unfortunately for those marketers, B2B SEO is a long-term process that doesn't typically lend itself to overnight success. However, with the right content on your side LinkedIn can be an incredible force for fast visitor growth. While I can't guarantee that other B2B brands will experience similar visitor growth to my client, if you aren't already investing in LinkedIn as a way to promote your content drive targeted traffic to your website you definitely should be!
Although this particular client had some of the most immediate visitor growth from LinkedIn I think I've ever seen (thanks to at least 3 informative blog posts each week we could leverage) across the board LinkedIn has done a great job of driving targeted traffic to most of my B2B clients' sites. LinkedIn Groups are the perfect content promotion opportunity for B2B brands because you can drill down to highly specialized and targeted groups. Do you sell mobile application software for enterprises? There's more than a few groups dedicated to mobile technology, enterprise IT and for CIOs that you can get involved in. Do your offer accounting services for small businesses? I'm sure there are plenty of small business advice and finance-minded groups you could join that would connect you with your target audience. Once you've joined a bunch of LinkedIn Groups you can cherry pick which piece of content will resonate best with the members of that group and start driving more targeted traffic over to your blog and website. The most important thing to remember about LinkedIn Groups is that you are trying to educate and interact with the members, not pitch them. Most Group managers don't take kindly to anyone trying to promote/sell anything.
LinkedIn Groups can also work well for businesses that aren't strictly B2B. Another one of my clients sells sports registration software and although their ideal customer is a league administrator, they oftentimes work with parent volunteers, so those parents becomes critical influencers in the decision making process. There are a bunch of LinkedIn Groups dedicated to youth sports, coaching, sports parents and more—all of which are great opportunities for that client to create and promote content that gets their brand indirectly in front of these parents by providing them with informational content that addresses their needs.
Categorized in: Social Media
Like what you've read? Please share this article