B2B Link Building Doesn't Have to Be Boring
Written by Brick Marketing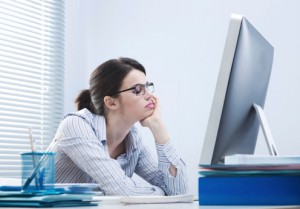 A lot of B2B site owners and marketing managers feel like their products/services aren't "sexy" enough to really earn any high-quality natural links. They aren't selling fashion, home design and decor, food, or other visually appealing and consumer-friendly goods that typically get a lot of attention with little work. After all, enterprise content management software isn't something you hear about in your day-to-day, right? Depending on what you do at work you may have no idea what it is! On the other hand, everyone is familiar with the iPhone, and the latest gadgets from Apple and other tech companies are bound to get a lot of buzz (and links) organically.
But just because you don't work in a "sexy" industry, that doesn't mean your B2B link building efforts can't be exciting and fun and very valuable to your SEO campaign. Here are 3 ways to keep your B2B link building on track and engaging for you and your staff:
1. Look for related niches to explore.
Let's say your company works in the open source arena. Open source software development is a "hot" industry right now, but there are plenty of related avenues you can explore to keep your link building efforts diverse and interesting. For example, you could look into sites that deal with programming and coding in general, be it open source or traditional custom coding. You could look at sites that target IT directors and managers (the people that would choose to push open source on their team), sites that focus on software security and compliance, and so forth. While these sites may not talk specifically about open source software they are relevant enough to your industry to create valuable B2B linking opportunities. What other verticals exist under the bigger umbrella that your business operates under?
2. Connect with industry influencers.
Who are the heavy hitters in your industry? Whose name stops people in their tracks and gets them to listen? Who are the conference headliners that make waves? For instance, in the SEO industry when someone like Matt McGee or Danny Sullivan talks the rest of us listen and take note. Who are the influencers in your industry? If you can connect with them you might find the door open to a plethora of link building opportunities. For example, we've done a bunch of expert interviews with SEO professionals. These interviews are fantastic link bait for a few reasons. First off, we get to piggyback on the personal brand of those we interviewed–their name catches peoples' attentions. Secondly, they help us promote those interviews via their social channels because it helps build their own credibility, which in turn drives more people to our site, generates more social shares, and helps us earn more natural links. If you can connect with your industry influencers you might find new ways to build great B2B links.
3. Think like your customer.
If you were looking for the goods/services and had no idea your company existed how would you start your search? What phrases would you type into Google? (Remember, you are the customer not the expert). What site would you go to in order to learn about different vendors and read reviews? Now ask yourself–are your B2B links coming from those sites? If you are building links wherever you can get them, as opposed to on sites that can actually connect you to your target audience, what's the point of getting those links? Think like your customer and build B2B links that connect the dots!
Categorized in: B2B SEO Marketing
Like what you've read? Please share this article