Your B2B Blog Really is Worth It
Written by Brick Marketing
One of our clients works in the medical technology field. And while the product they've created is actually pretty cool (and makes me feel like we are living in the future!), medical technology isn't exactly the "sexiest" of industries. In my experience that's something most B2B websites struggle with–they don't do fashion, or food, or consumer technology, or the kind of industries that get a lot of social love. They start to feel like no one cares about what they have to say, which in turn slows down their content marketing efforts, which is turn gives them less fuel for the social media fire. But if your B2B business is really that boring how are you still in business? Someone out there needs what you have to sell, which means they need to know more about your business! And your B2B blog is where the conversation starts.
Most B2B customers are doing the majority of their own research about your company and products/services, long before they ever pick up the phone and talk to your sales team. Your blog is where you get to tell your side of the story and to build your brand, educate your audience and more. Unlike social media channels, where the customer is pretty much the one in control, your blog is totally owned by you–meaning you get to decide what is said and how it's presented. And as long as you have customers you have people that are interested in what you have to say.
Take a look at the graph below. This is how much traffic our medical technology client has received to their blog since mid-November 2013. While 834 visitors might not seem like much to a fashion blogger or news site, it's not too shabby for a new B2B blog!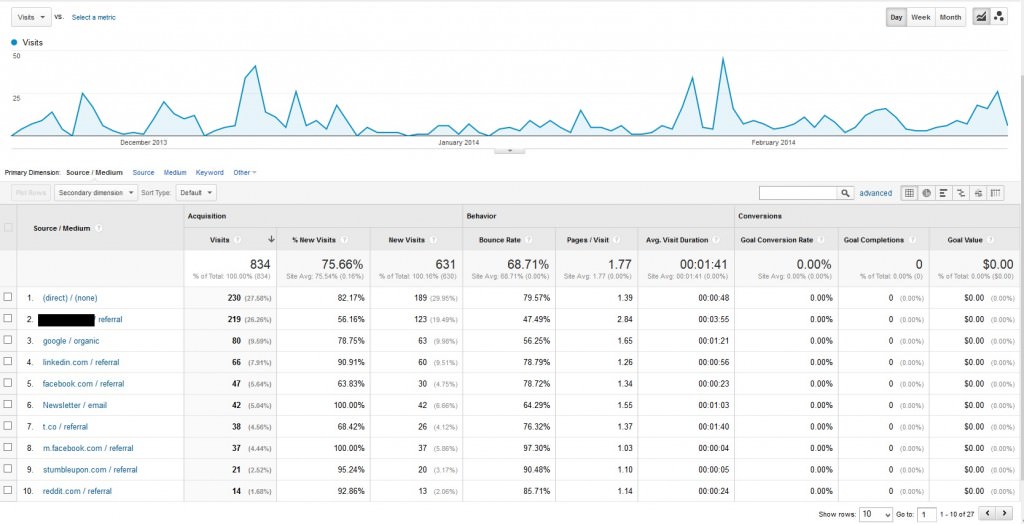 Over the same time period, the main website saw about 15,000 visitors, about 1/2 of which were direct and 1/3 of which came from Google organic. The site has been around a lot longer than the blog; so seeing those discrepancies in the numbers doesn't really surprise me. Given another 6 months of consistent content creation, it wouldn't surprise me to see the blog keep creeping upwards in terms of traffic–and the more content this client creates the more entry points they create into their website AND the more links they can earn naturally as people share and link to their blog.
As you delve into B2B blogging you have to remember that it is a very long-term game. You can publish a new post today and share it across all your social profiles, but Google might not index it for several weeks. Until Google crawls and indexes you new content you can't receive any organic visitors. And once it gets indexed the content still needs time to crawl its way up the SERPs.  However, once that content find it's spot in the SERPs it can drive plenty of traffic each month, long after the post has actually been published (especially when it's evergreen content).
Even if you can only write one blog post a week that's a great place to start building up fresh content! Talk about your company, your industry, the benefits of your products/services, and use your blog to start a conversation with your potential customers. A little content can go a long way when you take the time to put out great information!
Categorized in: B2B SEO Marketing
Like what you've read? Please share this article