Brick Marketing – Boston MA SEO Office
Brick Marketing's corporate headquarters is based in downtown Boston in the heart of the Financial District at 101 Federal St., Suite 1900 Boston, MA 02110.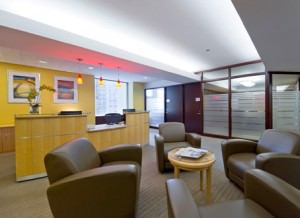 Contact Brick Marketing for a custom SEO proposal or to schedule an appointment.
National Toll Free Phone Number: 877-295-0620
Local Phone Number – 781-999-1222
Fax Number – 781-998-1250
Email Address – info@brickmarketing.com
Brick Marketing Hours of Operation:
Monday through Friday from 9AM Est. to 5PM Est.
Since 2005, Brick Marketing has become one of the premier SEO companies in the United States, but we are proud to call Boston our hometown. The strategy for every client and project, big or small, national or local, is handled personally by Brick Marketing President and Founder, Nick Stamoulis, a Boston area native.
The Brick Marketing Boston MA SEO office, located right by the MBTA's Downtown Crossing station, is used primarily as the location for our local Boston SEO Workshops hosted throughout the year. Our Boston office is easily accessible for workshop attendees whether they are driving, taking the T, or riding the commuter rail into the city. There is a parking garage connected directly to the building, and 101 Federal St is not even a ½ mile from the commuter rail station South Station. Since workshop attendees come from all over New England, and not just the greater Boston area, it was important to Brick Marketing to have a downtown office as our corporate headquarters. We're excited to be part of the bustling Financial District that serves as the core of the Boston business world.
Brick Marketing
101 Federal St., Suite 1900
Boston, Massachusetts 02110
Our Boston Massachusetts SEO office is also used to meet with national clients that fly into Boston for a face-to-face meeting with Brick Marketing. It's just a short drive from Logan International Airport and there are plenty of great hotels and restaurants in the surrounding neighborhoods that make it easy for national clients to schedule an appointment to visit.
As a white hat SEO firm, Brick Marketing is proud to offer both local Boston Massachusetts and national companies full service SEO solutions including: