Google's Venice Update—The Forgotten Local Update
Written by Nick Stamoulis
In the last few months I noticed that Brick Marketing was ranking in the top five search results for incredibly broad, national keywords like "SEO company." We've been doing very well for localized keywords for a long time, but to see the company crack the SERPs for a national keyword (especially one as competitive as that) was a huge win. But something was felt amiss and I couldn't put my finger on it until recently when I remembered the Google Venice update and its impact on local SEO. Chances are you don't remember the Google Venice update either—even though it was released back in February 2012. Amid the hubbub of Pandas, Penguins and a slew of other Google updates, the Venice update was lost in the shuffle.
The Venice update might not seem as Earth-shattering as the Google Panda or Penguin updates, but it had a pretty significant impact on local search!
What is the Google Venice Update?
In their attempt to create a more personalized search experience, Google used the Venice update to automatically account for the location of a searcher, even if they didn't use localized keywords. For instance, if I search for "hair salon" Google recognizes the location of my computer's IP address and pulls a list of local results. If you look in the left hand column of the search results page you'll notice your "current location" (which can be changed); that is the location Google used to determine what kind of results you should see in the SERPs.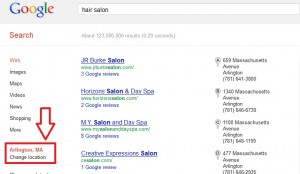 From a usability standpoint it makes perfect sense—plenty of users don't bother to localize their keywords when they search, so Google is taking the next step in personalization and doing it for them. After all, what good does a hair salon in Boston do for me if I'm in Arlington (they are several miles apart with a few towns in between)? But this also means that small, local companies that could never effectively compete for national keywords like "pet store" or "Thai restaurant" or "commercial cleaning" might think their SEO is doing much, much better than it actually is. After all, if you think your company is ranked #1 nationally for a highly competitive keyword with tens of thousands of searches each month you'd expect to see a massive spike in traffic, right? What might you think when the analytics don't back up your expectations?
How does the Venice update impact local SEO?
While it is still incredibly important to optimize your website for local keywords, the Venice update also means that you don't have to sacrifice the quality of your content to ensure it has been optimized properly. Think about how well (or not) this sentence reads: Boston SEO company Brick Marketing is headquartered in Boston, MA. Our team of Boston SEO specialists ensure that any local company looking for Boston SEO services gets the help they need.  Not the most beautiful sentence every written, right? But thanks to the Venice update your content doesn't have to be jam-packed with local keywords in order to tell Google you're a local business, provided the rest of your site is properly optimized.
How can site owners make their sites better for local SEO and use the Venice update to their advantage?
1. List your local address and phone numbers on the "Contact Us" page as well as in the footer of your site so Google can crawl it and recognize the location of your company.
2. Optimize your content for local keywords naturally. Include your city/town when it makes sense, not just every time you add a keyword to your content.
3. Claim every local listing you can find including Google+ Places, Bing Local, Yahoo Local, Yelp, YP.com and more. You can also add Google Maps to your "Contact Us" page.
4. Build local back links from community sites and organizations to further cement your location in the eyes of Google.
Categorized in: Search Engines
Like what you've read? Please share this article